Study of C-reactive protein in healthy neonates
Dr. Nibedita Priyadarsini

IMS & SUM Hospital, Bhubaneswar, Odisha, India

Dr. Manasi Behera

IMS & SUM Hospital, Bhubaneswar, Odisha, India

Dr.Dipti Mohapatra

IMS & SUM Hospital, Bhubaneswar, Odisha, India
Keywords:
CRP- C-reactive protein, PROM-premature ruptures of membranes, healthy neonates
Abstract
Introduction:C-reactive protein is widely used marker for early detection of neonatal sepsis. There is reported wide variation in normal CRP level of new born as well as its sensitivity and specificity regarding its use as an indicator for sepsis. It is known that cascade of events in sepsis leading to rise of CRP may take few hours to days to increase;therefore predictive value is higher after 24 to 48 hours of infection. Considering the above factors this work was taken to know the normal pattern of CRP during initial days of birth in healthy neonates & to have a cut off value.
Materials and Methods: The present study was conducted in association with pediatric& biochemistry department in IMS & SUM Hospital, Bhubaneswar to observe normal CRP level during zero hour (cord blood) and 48hours in apparently healthy new born babies. Babies having perinatal asphyxia and other severe complications and babies of mother with preexisting chronic diseases were excluded from the study. CRP was estimated by turbidometry method. Data were collected and analyzed with appropriate statistical application.
Results: After excluding babies as per exclusion criteria, finally 48 new born data were included for study and analysis. Upper reference value for CRP at birth & at 48hrs was established. CRP value was small in cord blood healthy newborn babies. There is significant rise in CRP by 48hrs compared to that at birth. Maternal problems like PROM, perinatal fetal distress and gestational hypertension affected CRP positively.
Conclusion:Maternal and fetal factors can affect the neonatal CRP value and should be kept in mind while considering CRP as an indicator of sepsis.
Downloads
Download data is not yet available.
References
1. Yentis SM, Soni N, Sheldon J. C-reactiveprotein as an indicator of resolution of sepsis in intensive care unit. Intensive care med. 1995 Jul; 21(7):602–5. [PubMed]

2. Vesikari T. Cytokine determinations and rapid diagnosis of early onset neonatal septicemia. ActaPaediatr. 1999 Jun;88(6):585–6. [PubMed]

3. The WHO young infants study group. Bacterial etiology of serious infections in young infants in developing countries: results of a multicenter study.Pediatr Infect Dis J. 1999 Oct;18(10 Suppl): S17-22.

4. Escobar GJ. Effect of systemic inflammatory response on biochemical markers of neonatal bacterial infection: A fresh look at old confounders. Clini Chem. 2003 Jan;49(1):21-22.

5. Ng PC, Cheng SH,Chui KM, Fok TF,Wong MY, Wong W, Wong RP, Cheung KL. Diagnosis of late onset neonatal sepsis with cytokines, adhesion molecule and C-reactive protein in preterm very low birthweight infants. Arch Dis Child Fetal Neonatal Ed. 1997 Nov; 77(3): F221-7. [PubMed]

6. Chan DK, Ho LY. Usefulness of C-reactive protein in the diagnosis of neonatal sepsis. Singapore Med J. 1997 Jun;38(6): 252-5. [PubMed]

7. Gerdes JS. Clinicopathologic approach to the diagnosis of neonatal sepsis. Clin Perinatol.1991 Jun;18(2):361-81. [PubMed]

8. Gabay C, Kushner I. Acute-phase proteins and other systemic responses to inflammation. N Engl J Med. 1999 Feb 11;340(6):448-54. [PubMed]

9. Pourcyrous M, Bada H, Korones S, Baselski V, Wong S. Significance of serial C-reactive protein response in neonatal infection and other disorders. Pediatrics.1993 Sep;92(3):431-435. [PubMed]

10. Sabel KG, Hanson LA. The clinical usefulness of C-reactive protein(CRP) determinations in bacterial meningitis and septicemia in infancy. Acta Paediatr Scand. 1974 May;63(3):381-388. [PubMed]

11. Philip AG. Acute phase proteins in neonatal infection. J Pediatr. 1984 Dec;105(6):940-942. [PubMed]

12. Mathers NJ, Pohlandt F. Diagnostic audit of C-reactive protein in neonatal infection. EurJ Pediatr. 1987 Mar;146(2):147-51.

13. WasunnaA, Whitelaw A, Galimore,Hawkins PN, Pepys MB. C-reactive protein and bacterial infection in preterm infants. Eur J Pediatr. 1990 Mar;149(6):424-7. [PubMed]

14. Schouten-Van Meeteren NY. Influence of perinatal conditions on C-reactive protein production. J Pediatr.1992;120(4 Pt 1):621-624. [PubMed]

15. Xanthou M, Fotopoulos S, Mouchtouri A, Lipsou N, Zika I, Sarafidou J. Inflammatory mediators in perinatal asphyxia and infection. ActaPaediatr Suppl. 2002;91(438):92-7. [PubMed]

16. Chiesa C, Fabrizio S, Assumma M, Buffone E, Tramontozzi P, Osborn JF, Pacifico L. Serial measurements of C-reactive protein and interleukin-6 in the immediate postnatal period: reference intervals and analysis of maternal and perinatal confounders. Clin Chem. 2001 Jun;47(6):1016-22.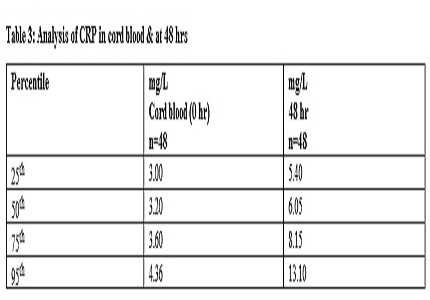 CITATION
DOI: 10.17511/ijpr.2016.i06.02
How to Cite
Dr. Nibedita Priyadarsini, Dr. Manasi Behera, & Dr.Dipti Mohapatra. (2016). Study of C-reactive protein in healthy neonates. Pediatric Review: International Journal of Pediatric Research, 3(6), 380-384. https://doi.org/10.17511/ijpr.2016.i06.02
Copyright (c) 2016 Author (s). Published by Siddharth Health Research and Social Welfare Society
This work is licensed under a Creative Commons Attribution 4.0 International License.