Effect of L- Carnosine, DHA and vitamin D3 on children with down's syndrome- a pilot study on Indian population
Dr. Priya Chandrasekhar

Pediatrician, Ramana Maharishi Rangammal Hospital, Thiruvannamalai, Tamil Nadu, India.

Dr. Surekha Ramachandran

President, Down syndrome federation of India, Chennai, Tamil Nadu, India.
Keywords:
Down syndrome, L Carnosin, Docosahexaenoic acid, Vitamin D3
Abstract
Background: Down syndrome (DS) is one of the leading genetic causes of intellectual disability (ID) accounting 15–20% of ID population across the world. Early intervention is the potential treatment; alternative therapies like occupational and physical therapy are carried to improve different skills in the child with DS. L-Carnosine is the first dietary supplement that helps in improving cognitive and behavioural symptoms. Docosahexaenoic acid (DHA) improves learning and memory abilities. Vitamin D3 is a therapeutic neuroprotector and its supplementation with DHA improves certain behaviours associated with ADHD, bipolar disorder, schizophrenia, and impulsive behaviour by regulating serotonin production and function. This study was aimed to determine the synergetic effect of L-Carnosine, DHA and Vitamin D3 in improving development in children with Down syndrome.
Materials and Methods: The basic design of the study was an open label, placebo-controlled study with study duration of six months with 60 patients and analysis were carried out with the questionnaire created in reference to Ages and Stages Questionnaire (ASQ). The main parameters studied were communication, gross motor, fine motor, problem solving, social and vocabulary skills.
Results: Our results confirm that parameters related to communication, fine motor, gross motor, social skills, problem solving and vocabulary significantly improved in children who were supplemented with additional nutritional supplementation, when compared to the children who were notand the data were statistically significant p<0.05.
Conclusion:The combination of L Carnosine, DHA and Vitamin D3 supplementation yields an increase in cognitive processing speed, language skills and improved motor skills.
Downloads
Download data is not yet available.
References
1. Lakhan, R. and M.T. Kishore, Down syndrome in tribal population in India: A field observation. Journal of neurosciences in rural practice, 2016. 7(1): p. 40. [PubMed]

2. Ralston, C. and R. Partridge, Early Communication Skills for Children with Down Syndrome: A Guide for Parents and Professionals. Journal of Developmental & Behavioral Pediatrics, 2004. 25(5): p. 365-366.

3. Lott IT. Antioxidants in Down syndrome. BiochimBiophys Acta. 2012 May;1822(5):657-63. doi: 10.1016/j.bbadis.2011.12.010. Epub 2011 Dec 21.

4. Muchová J, Žitňanová I, Ďuračková Z. Oxidative stress and Down syndrome. Do antioxidantsplay a role in therapy? Physiol Res. 2014;63(5):535-42. Epub 2014 Jun 5.

5. Kedziora J, Bartosz G. Down's syndrome: a pathology involving the lack of balance of reactive oxygen species. Free RadicBiol Med. 1988;4(5):317-30. [PubMed]

6. Hipkiss AR, Brownson C, Bertani MF, Ruiz E, Ferro A. Reaction of carnosine with aged proteins: another protective process? Ann N Y Acad Sci. 2002 Apr;959:285-94.

7. Boldyrev AA, Aldini G, Derave W. Physiology and pathophysiology of carnosine. Physiol Rev. 2013 Oct;93(4):1803-45. doi: 10.1152/physrev.00039.2012. [PubMed]

8. Young, W., Carnosine as a neuroprotective agent.

9. Chez, M.G., et al., Double-blind, placebo-controlled study of L-carnosine supplementation in children with autistic spectrum disorders. Journal of child neurology, 2002. 17(11): p. 833-837.

10. Bae, O.-N., et al., Safety and efficacy evaluation of carnosine, an endogenous neuroprotective agent for ischemic stroke. Stroke, 2013. 44(1): p. 205-212.

11. Hipkiss, A.R., et al., Carnosine: can understanding its actions on energy metabolism and protein homeostasis inform its therapeutic potential? Chemistry Central Journal, 2013. 7(1): p. 38.

12. Sayre LM, Perry G, Smith MA. Oxidative stress and neurotoxicity. Chem Res Toxicol. 2008 Jan;21(1):172-88. Epub 2007 Dec 4. [PubMed]

13. Gómez-Pinilla, F., Brain foods: the effects of nutrients on brain function. Nature Reviews Neuroscience, 2008. 9(7): p. 568.

14. Jiang LH, Shi Y, Wang LS, Yang ZR. The influence of orallyadministereddocosahexaenoic acid on cognitiveability in agedmice. J NutrBiochem. 2009 Sep;20(9):735-41. doi: 10.1016/j.jnutbio.2008.07.003. Epub 2008 Sep 30.

15. Sakamoto, T., M. Cansev, and R.J. Wurtman, Oral supplementation with docosahexaenoic acid and uridine-5′-monophosphate increases dendritic spine density in adult gerbil hippocampus. Brain research, 2007. 1182: p. 50-59.

16. Sherwood NT, Lo DC. Long-term enhancement of central synaptic transmission by chronic brain-derived neurotrophic factor treatment. J Neurosci. 1999 Aug 15;19(16):7025-36. [PubMed]

17. Baum SJ, Kris-Etherton PM, Willett WC, Lichtenstein AH, Rudel LL, Maki KC, Whelan J, Ramsden CE, Block RC. Fatty acids in cardiovascular health and disease: a comprehensive update. J Clin Lipidol. 2012 May-Jun;6(3):216-34. doi: 10.1016/j.jacl.2012.04.077. Epub 2012 Apr 13.

18. Orme RP, Middleditch C, Waite L, Fricker RA. The Role of Vitamin D₃ in the Development and Neuroprotection of Midbrain Dopamine Neurons. VitamHorm. 2016;100:273-97. doi: 10.1016/bs.vh.2015.10.007. Epub 2015 Dec 17. [PubMed]

19. Patrick RP, Ames BN. Vitamin D and the omega-3 fatty acidscontrolserotoninsynthesis and action, part2: relevance for ADHD, bipolar disorder, schizophrenia, and impulsive behavior. FASEB J. 2015 Jun;29(6):2207-22. doi: 10.1096/fj.14-268342. Epub 2015 Feb 24.

20. Martinez, M., Developmental profiles of polyunsaturated fatty acids in the brain of normal infants and patients with peroxisomal diseases: severe deficiency of docosahexaenoic acid in Zellweger's and pseudo-Zellweger's syndromes, in Health Effects of Omega 3 Polyunsaturated Fatty Acids in Seafoods. 1991, Karger Publishers. p. 87-102.

21. Hadley KB, Ryan AS, Forsyth S, Gautier S, Salem N Jr. The Essentiality of Arachidonic Acid in Infant Development. Nutrients. 2016 Apr 12;8(4):216. doi: 10.3390/nu8040216. [PubMed]

22. Vaezghasemi, M., et al., Psychometric analysis of Age and Stages Questionnaire: Social-Emotional (ASQ: SE) among 3-year-oldsMasoud Vaezghasemi. European Journal of Public Health, 2017. 27(suppl_3).

23. Kvestad, I., et al., The assessment of developmental status using the Ages and Stages questionnaire-3 in nutritional research in north Indian young children. Nutrition journal, 2013. 12(1): p. 50.

24. Costa, A.C., On the promise of pharmacotherapies targeted at cognitive and neurodegenerative components of Down syndrome. Developmental neuroscience, 2011. 33(5): p. 414-427.

25. Mohan, M., C. Bennett, and P.K. Carpenter, Memantine for dementia in people with Down syndrome. The Cochrane Library, 2009.

26. Lott IT, Doran E, Nguyen VQ, Tournay A, Head E, Gillen DL. Down syndrome and dementia: a randomized, controlledtrial of antioxidantsupplementation.Am J Med Genet A. 2011 Aug;155A(8):1939-48. doi: 10.1002/ajmg.a.34114. Epub 2011 Jul 7. [PubMed]

27. Atkinson, S., et al., Intellectual disability in health and social care. 2014: Routledge.

28. Fidler, D.J., et al., Praxis skills in young children with Down syndrome, other developmental disabilities, and typically developing children. American Journal of Occupational Therapy, 2005. 59(2): p. 129-138.

29. Fidler, D.J., et al., Nonverbal requesting and problem-solving by toddlers with Down syndrome. American journal on mental retardation, 2005. 110(4): p. 312-322.

30. Martin GE, Klusek J, Estigarribia B, Roberts JE. LanguageCharacteristics of Individuals with Down Syndrome. Top Lang Disord. 2009 Apr;29(2):112-132.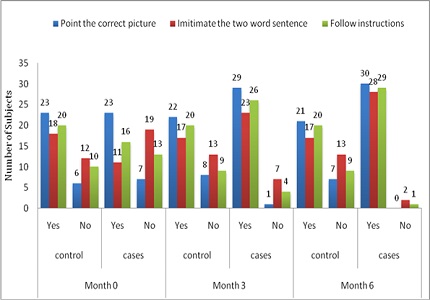 CITATION
DOI: 10.17511/ijpr.2018.i04.05
How to Cite
Dr. Priya Chandrasekhar, & Dr. Surekha Ramachandran. (2018). Effect of L- Carnosine, DHA and vitamin D3 on children with down's syndrome- a pilot study on Indian population. Pediatric Review: International Journal of Pediatric Research, 5(4), 180-187. https://doi.org/10.17511/ijpr.2018.i04.05
Copyright (c) 2018 Author (s). Published by Siddharth Health Research and Social Welfare Society
This work is licensed under a Creative Commons Attribution 4.0 International License.