Effect of Gayatrimantra chanting on cognitive functions in school children
Dr. K. A. Manoj Narayanan

DM Wayanad Institute of Medical Sciences, Naseera Nagar, Meppadi, Wayanad, Kerala, India

Dr. N Venugopalan

DM Wayanad Institute of Medical Sciences, Naseera Nagar, Meppadi, Wayanad, Kerala, India
Keywords:
Gayatri mantra, Spatial memory, Verbal memory
Abstract
Background: In Indian tradition chanting of Vedic mantras is a part and parcel of life. The sacred Gayatri mantra was explained in Rig Veda. It was initially explained by Vishwamitra maharshi. As it is concerned about sun, it is also called as Savir mantra.
Methods: Thirty healthy, willing, hostel students (15 boys and 15 girls) in the age group of 11-14 years were included in the study. After recording the baseline values, all the students were trained in Chanting Gayatri mantra for a week days by Veda pundit before the starting of the study. After a week days, the participants started chanting the mantra once a day, for five days a week, early in the morning at 6am under the supervision of Vedic expert for 10 minutes for16 weeks. Post intervention values were recorded after 16 weeks.
Results: Results were presented in tabular form.There was a significant increase in the both spatial and verbal memory scores followed by the chanting of Gayatri mantra.
Conclusion: The present study provides further evidence for the beneficial effects of chanting Gayatri mantra. We recommend further detailed studies in this area to understand molecular mechanisms involved.
Downloads
Download data is not yet available.
References
1. Harshananda S. 3rd ed. Chennai: Ramkrishna Math; 2010. Upanayana, Sandhya Vandana and Gayatri Mantra Japa.

2. Bhatta KV. 4th ed. South Canara: KaitanjePrakashan; 2004. Shri Gayatri Mantra Rahasya. [PubMed]

3. Bernardi L, Sleight P, Bandinelli G, Cencetti S, Fattorini L, Wdowczyc-Szulc J, Lagi A. Effect of rosaryprayer and yogamantras on autonomiccardiovascularrhythms: comparative study. BMJ. 2001 Dec 22-29;323(7327):1446-9. [PubMed]

4. Balaram Pradhan and Seema Godse Derle. Comparison of effect of Gayatri Mantra and Poem Chanting on Digit Letter Substitution Task. Anc Sci Life. 2012 Oct-Dec; 32(2): 89–92.

5. Naveen KV, Nagarathna R, Nagendra HR, Telles S. Yogabreathing through a particularnostrilincreasesspatial memoryscores without lateralizedeffects.Psychol Rep.1997 Oct;81(2):555-61.

6. https://www.mostinside.com/miraculous-benefits-of-reciting-gayatri-mantra/. Last accessed on 28th Feb 2018.

7. Kalyani BG, Venkatasubramanian G, Arasappa R, Rao NP, Kalmady SV, Behere RV, Rao H, Vasudev MK, Gangadhar BN. Neurohemodynamiccorrelates of 'OM' chanting: A pilotfunctional magnetic resonance imagingstudy.Int J Yoga. 2011 Jan;4(1):3-6. doi: 10.4103/0973-6131.78171. [PubMed]

8. Shimomura T, Fujiki M, Akiyoshi J, Yoshida T, Tabata M, Kabasawa H, Kobayashi H. Functionalbrain mapping during recitation of Buddhistscriptures and repetition of the NamuAmidaButsu: a study in experiencedJapanesemonks. Turk Neurosurg. 2008 Apr;18(2):134-41.

9. Saltz E, Manifest anxiety-have we missed the data, Psychol Rev.1970; 77:568-573. [PubMed]

10. Wallace RK, Benson H, Wilson AF. A wakeful hypometabolic physiologic state. Am J Physiol. 1971 Sep;221(3):795-9. [PubMed]

11. SripadGhaligi, H R Nagendra & Ramachandra Bhatt. Effect of Vedicchanting on memory and sustained attention. Indian Journal of Traditional Knowledge. 2006;5(2):177-180.

12. Satish Bansilal Patil, K HH V S Narasimha Murthy, Mangalagowri V Rao. Effect of yogic practices and medhyarasayanas on manasa prakriti, adjustment and aggression of adolescent juvenile delinquents. Int. J. Res. Ayurveda Pharm. 2015;6(6):649-655.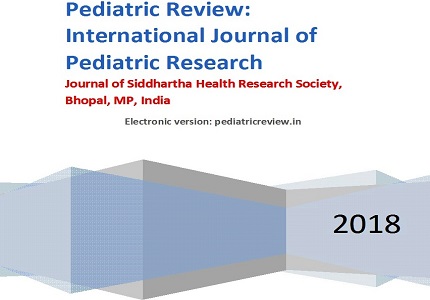 CITATION
DOI: 10.17511/ijpr.2018.i03.02
How to Cite
Dr. K. A. Manoj Narayanan, & Dr. N Venugopalan. (2018). Effect of Gayatrimantra chanting on cognitive functions in school children. Pediatric Review: International Journal of Pediatric Research, 5(3), 113-115. https://doi.org/10.17511/ijpr.2018.i03.02
Copyright (c) 2018 Author (s). Published by Siddharth Health Research and Social Welfare Society
This work is licensed under a Creative Commons Attribution 4.0 International License.