Use of NESTROFT as a screening test for the carriers of thalassemia major
Dr. Gopikishan Sharma

Government medical College Kota, Rajasthan (India)

Dr. Dipendra Sharma

Government medical College Kota, Rajasthan (India)

Dr. R.K.Gulati

Government medical College Kota, Rajasthan (India)
Keywords:
Thalassemia carrier screening, HbA2 estimation, NESTROFT
Abstract
Objective: To evaluate use of NESTROFT as a screening test for the carrier of thalassemia major.
Design: prospective study. Settings and participants: 121 random clinically normal children who were  siblings of thalassemia major patients who registered at thalassemia welfare society of J K LON hospital kota. Intervention: All cases were investigated for CBC, NESTROFT and HbA2 estimation by HPLC method.
Result: Total 121 cases were screened for carrier by HPLC method for HbA2 estimation. Total 59 (48.76%) cases had HbA2 level ≥3.5 %, considered as carrier while 62 (51.24%) cases were noncarrier. The Sensitivity, specificity, PPV and NPV of MCV<80, Mentzer index (<13 were  positive), and NESTORFT, were 89.83%, 46.77,61.62% ,82.85% ;  83.05%, 97.36%,  96.07% ,88.09 % and  93.22%, 88.70,  88.7 and 93.22 % respectively. So Nestorft is better test (sensitivity-93.22% and NPV is 93.22%) for screening for carrier.
Conclusion: It is concluded that β thalassemia carriers are more prevalent in siblings of thalassemia major. For screening NESTORF test is reliable and cost effective and can be used for mass hemoglobinopathies screening programmes.
Downloads
Download data is not yet available.
References
1. Bobhate SK, Gaikwad ST, Bhaledrao T: NESTROFT as a screening test for detection of β-thalassemia trait. Indian J Pathol Microbiol, 2002; 45(3):265-267. [PubMed]

2. Sachdev R Dam AR, Tyagi G. Deletion of Hb variant and hemoglobinopathies in Indian population using HPLC Report of 2600 cases. Indian J Pathol microbial. 2010 jan-mar; 53(1) :57-62. [PubMed]

3. Choudhary VP, Desai N, Patil HP, et al: Current management of homozygous beta thalassemia. Indian Pediatr 1991: 28: 1221-1229.  [PubMed]

4. Choudhry VP, Desai N, Pati HP, Nanu A. Current management of homozygous beta thalassemia. Indian Pediatr. 1991 Oct;28(10):1221-9. [PubMed]

5. Manglani M, Lokeshwar M. R., Vani V. G., et al: 'NESTROFT'-An effective screening test for beta thalassemia trait. Indian Pediatrics, 1997; 34:702-707. [PubMed]

6. Thomas B, Shrivastava A, Jayasselan L et al: NESTROFT as a screening test for detection of thalassemia in common haematopathies. An evaluation against a high performance liquid chromatographic method. Indian J Med, 1996. [PubMed]

7. Mohanty D, colah RB, Gorakshakar AC, Nandkarni AH, Phanasgonkar SP, Shetty S, et al. Genetic disorder in hematological practice in India. Community genetics 2002; 197-200. [PubMed]

8. BC Mehta et al , A screening of β thalassemia trait,  published in Indian journal of medical science year 2002 vol. 56 issue 11 page 537-544.

9. Randolph TR. Thalassemia. In: McKenzie SB, Williams JL, editors. Clinical  Laboratory Hematology. 2nd ed. New York: Pearson; 2009. p. 231-56.

10. Klee GG, Fairbabks VF, Pierre RV,O'Sullivan MB. Routine erythrocyte measurements in diagnosis of iron deficiency anemia and thalassemia minor. Am J Clin Pathol 1976; 66: 870-877. [PubMed]

11. Chopra BS, Nair V, Gupta PK, Mishra DK, Sharma A, Mathew OP. Spectrum  of Hemoglobinopathies in a Tertiary Care Hospital of Armed Forces. Medical Journal of Armed Forces India 2008;64(4):311-14. [PubMed]

12. Colah R, Surve R, Wadia M, Solanki P, Mayekar P, Thomas M, et al. Carrier Screening for β-Thalassemia during Pregnancy in India: A 7-Year Evaluation. Genet Test. 2008 Jun;12(2):181-5. [PubMed]

13. Sujatha R, Sreekantha, Niveditha S ,Avinash S, Remya,Vinodchandran, Rangaswamy- The study of recent biochemical and pathological aspects of thalassemia International Journal of Research in Health Sciences. Oct–Dec 2013 Volume- 1, Issue-3 p.140-152 . [PubMed]

14. Manglani M, Lokeshwar MR, Vani V.G. , Nishi B and Vijay M, 'NESTROFT' – An Effective Screening Test for Beta – Thalassemia Trait. INDIAN PEDIATRICS 1997;(34):702 – 707. [PubMed]

15. Maheshwari. M, Arora S, Kabra M, Menon PSN. Carrier Screening and prenatalDiagnosis of Beta thalassemia. Indian Pediatrics 1999; 36:1119 – 1125. [PubMed]

16. Tyagi S, Dass J, Sharma M. Diagnosis of Thalassemia and Haemoglobinopathies. In: Agarwal MB editor. Haematology Today. Mumbai:Agarwal Publisher;2010. p. 91-101.

17. Thomas S ,Srivastav A, Jeyaseelan L, Dennison D, Chandy M. et al Department of Haematology, Christian Medical College Hospital, Vellore. Studied on NESTROFT as a screening test for the detection of thalassemia & common hemoglobinopathies -- an evaluation against a high performance liquid chromatographic method. In indian j. of med res 1996 aug 104: 194-7. [PubMed]

18. Raghavan K, Lokeshwar MR,Birewar N,Nigam V,Mangalani MV,Raju .Evaluation of naked eye single tube red cell osmotic fragility test in detecting β-thalassemia trait.Indian Pediatr 1991;28:469-472. [PubMed]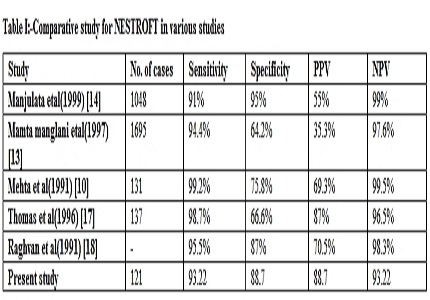 How to Cite
Dr. Gopikishan Sharma, Dr. Dipendra Sharma, & Dr. R.K.Gulati. (2016). Use of NESTROFT as a screening test for the carriers of thalassemia major. Pediatric Review: International Journal of Pediatric Research, 3(7), 498-502. https://doi.org/10.17511/ijpr.2016.i07.06
Copyright (c) 2016 Author (s). Published by Siddharth Health Research and Social Welfare Society
This work is licensed under a Creative Commons Attribution 4.0 International License.