Role of C-reactive protein in rapid diagnosis of early neonatal sepsis in a tertiary care hospital
Dr Dipti Devi

Tezpur Medical College, Assam

Dr Rajesh Kumar

Silchar Medical College, Assam, India
Keywords:
Newborn, Early onset sepsis, C-reactive protein (CRP)
Abstract
Introduction: C-reactive protein (CRP) is a serum glycoprotein produced by the liver during acute inflammation. Because it disappears rapidly when inflammation subsides, its detection signifies the presence of a current inflammatory process. Serial measurements give information on the resolution or continuation of the inflammatory process. Recently, more sensitive immunoassay methods create a renewed interest of its utility in clinical practice. Early diagnosis of neonatal sepsis is often difficult. A prospective, cohort study was done in hospital born newborns to find out utility of CRP for early diagnosis of early onset sepsis for a period of one year from July 2013 to June 2014 in a tertiary care hospital.
Method: Serum CRP was measured by immunoturbidity method at birth, at 24 hours and at 48 hours of age of suspected sepsis.
Results: Out of 298 babies, 15(5.03%) were found with probable sepsis in presence of symptoms and/or positive sepsis screen. Blood culture was positive in 7 (46.66%) cases of probable sepsis. Our study shows that elevated CRP (>6mg/L) is associated with maternal risk factors, but not significantly correlated with culture proven EOS. It showed high sensitivity, low specificity, low positive predictive value and high negative predictive value as 93.3%, 44.9%, 8.2% and 99.2% respectively. When combined with other components of sepsis screen including ANC<1500/cu.mm, band cell>0.2 or TLC<5000/cu.mm, its specificity significantly increases.
Conclusion: In combination with other sepsis screen, it can be used as an early diagnostic tool. Lower levels (<6 mg/l) are helpful in excluding sepsis.
Downloads
Download data is not yet available.
References
1. Dadhich JP, Paul VK. State of India's Newborns, National Neonatology Forum and Saving Newborn Lives. New Delhi. Save the Children (US); 2004.

2. Lawn JE, Cousens S, Zupan J. WHO estimates the causes of death in children. Lancet. 2005; 365: 1147-1152.

3. National Neonatal Perinatal Database. Report for year 2002-2003. National Neonatology Forum. India; 2005 Jan.

4. Ralph A Franciosi, Blaise E Favara. A Single Blood Culture for Confirmation of the Diagnosis of Neonatal Septicemia. Am J Clin Pathol. 1972 Feb; 57: 215-9. [PubMed]

5. Donald V Eitzman, Richard T Smith. The Significance of Blood Cultures in the Newborn Period. Am J Dis Child. 1957 Dec; 94: 601-3. [PubMed]

6. Sarff LD, Platt LH, McCracken GH Jr. Cerebrospinal fluid evaluation in neonates: comparison of high-risk infants with and without meningitis. J Pediatr. 1976 Mar;88(3):473-7. [PubMed]

7. Meharban singh. Care Of The Newborn. 7th Edition. Sagar Publishers; 2010. P 2-3.

8. Franz AR et al. Reduction of unnecessary antibiotic therapy in newborn infants using interleukin-8 and C-reactive protein as markers of bacterial infections. Pediatrics. 1999;104:447-453.

9. Felix NS, Nakajima H, Kagan BM. Serum C-reactive protein in infections during the first six months of life. Pediatrics. 1966 Feb;37(2):270-7. [PubMed]

10. Philipson L, Tevtaras E. C-reactive protein in infancy: Its appearance during the first year of life transplacental passage and electro phoretic pattern. Acta pediatr Scan. 1957; 46: 1.

11. Tillett WS, Francis T. SEROLOGICAL REACTIONS IN PNEUMONIA WITH A NON-PROTEIN SOMATIC FRACTION OF PNEUMOCOCCUS. J Exp Med. 1930 Sep 30;52(4):561-71.

12. Wood HF, McCarty M, Slater RJ. The occurrence during acute infections of a protein not present in blood: Physical chemical characteristics of the protein crystallized by a modified technique. J Exp Med. 1954; 100: 71-79.

13. Gotschlich EC, Edelman GM. C-reactive protein: a molecule composed of subunits. Proc Natl Acad Sci U S A. 1965 Aug;54(2):558-66. [PubMed]

14. Osmand AP, Friedenson B, Gewurz H, Painter RH, Hofmann T, Shelton E. Characterization of C-reactive protein and the complement subcomponent C1t as homologous proteins displaying cyclic pentameric symmetry (pentraxins). Proc Natl Acad Sci U S A. 1977 Feb;74(2):739-43.

15. Oliveira EB, Gotschlich EC, Liu TY. Primary structure of human C-reactive protein. Proc Natl Acad Sci U S A. 1977 Aug;74(8):3148-51. [PubMed]

16. HANSON LA, NILSSON LA. Studies on C-reactive protein. 2. The presence of C-reactive protein during the pre- and neonatal period. Acta Pathol Microbiol Scand. 1962;56:409-14.

17. Philip AG, Mills PC. Use of C-reactive protein in minimizing antibiotic exposure: experience with infants initially admitted to a well-baby nursery. Pediatrics. 2000 Jul;106(1):E4.

18. Duclos T. Function of C-reactive protein. Ann Med.2000; 32: 274-8. [PubMed]

19. Ballou S. Kushner I. C-reactive protein and the acute phase response. Adv Intern Med 1992; 37: 313-6. [PubMed]

20. Gabay C, Kushner I. Acute-phase proteins and other systemic responses to inflammation. N Engl J Med. 1999 Feb 11;340(6):448-54.

21. Chiesa C, Signore F, Assumma M, Buffone E, Tramontozzi P, Osborn JF, Pacifico L. Serial measurements of C-reactive protein and interleukin-6 in the immediate postnatal period: reference intervals and analysis of maternal and perinatal confounders. Clin Chem. 2001 Jun;47(6):1016-22.

22. O'Callaghan C et al. C-reactive protein Concentrations in neonates: determination by Latex enhanced Immunoassay. J Clin Pathol. 1984; 37: 1027-28.

23. Shine B, Gould J, Campbell C. Serum C-reactive protein in normal and infected Neonates. Clin Chim Acta. 1985; 148: 197-203. [PubMed]

24. Jaye DL, Waites KB. Clinical applications of C-reactive protein in pediatrics. Pediatr Infect Dis J. 1997 Aug;16(8):735-46; quiz 746-7. [PubMed]

25. Elizabeth Mathai et al. Is C-reactive protein level useful in differentiating infected from uninfected neonates among those at risk of infection? Indian Pediatrics. 2004; 41: 895-900.

26. Yadav AK, Wilson CG, Prasad PL, Menon PK. Polymerase chain reaction in rapid diagnosis of neonatal sepsis. Indian Pediatr. 2005 Jul;42(7):681-5.

27. K Swarnkar, M Swarnkar. A Study Of Early Onset Neonatal Sepsis With Special Reference To Sepsis Screening Parameters In A Tertiary Care Centre Of Rural India. The Internet Journal of Infectious Diseases. 2012; Volume10 : Number 1.

28. Varsha Rusia U, Sikka M, Faridi MM, Madan N. Validity of hematologic parameters in identification of early and late onset neonatal infection. Indian J Pathol Microbiol. 2003 Oct;46(4):565-8.

29. Twinkle N Gandhi, Manish G Patel, Mannu R Jain, Rajeevkumar B Saxena, Pragnesh J Bhuva. Utility of c reactive protein as inflammatory marker in early diagnosis of neonatal septicaemia: a cross sectional study, national journal of medical research. 2012 Oct – Dec; Volume2│Issue 4│

30. Jan AZ, Gul Z, Liaqat F. Daignostic value of C-reactive protein and haematological markers in neonatal sepsis. Gomal J Med Sci. 2013; 11:212-5.

31. Sucilathangam G et al. Early Diagnostic Markers for Neonatal Sepsis. Journal of Clinical and Diagnostic Research. 2012 May; Vol-6(4): 627-631.

32. Gerdes JS. Diagnosis and management of bacterial infections in the neonate. Pediatr Clin North Am. 2004 Aug;51(4):939-59, viii-ix. [PubMed]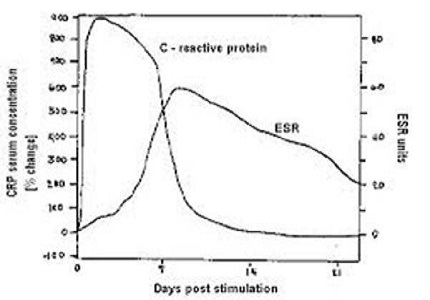 CITATION
DOI: 10.17511/ijpr.2017.i07.01
How to Cite
Dr Dipti Devi, & Dr Rajesh Kumar. (2017). Role of C-reactive protein in rapid diagnosis of early neonatal sepsis in a tertiary care hospital. Pediatric Review: International Journal of Pediatric Research, 4(7), 429-437. https://doi.org/10.17511/ijpr.2017.i07.01
Copyright (c) 2017 Author (s). Published by Siddharth Health Research and Social Welfare Society
This work is licensed under a Creative Commons Attribution 4.0 International License.