Assessment of prevalence of risk factors for non-communicable diseases in early adolescent age group using Global School Health Survey in Ujjain, Madhya Pradesh, India
Dr. Priyanka Sharma

Resident, Department of Pediatrics, R.D Gardi Medical College, Ujjain, Madhya Pradesh, India

https://orcid.org/0000-0001-9739-3952

Dr. Jagdish Chandra Mandliya

Professor, Department of Pediatrics, R.D Gardi Medical College, Ujjain, Madhya Pradesh, India

Dr. Mamta Dhaneria

Professor and Head, Department of Pediatrics, R.D Gardi Medical College, Ujjain, Madhya Pradesh, India

Dr. Vishal Diwan

Scientist E, National Institute for Research in Environmental Health, Bhopal, Madhya Pradesh, India
Keywords:
Non communicable disease, WHO, Age
Abstract
Introduction: There has been a global rise in non-communicable diseases and a shift in trends from infectious to chronic lifestyle-related diseases, roots of which are behaviourally acquired and begin during adolescence. Adolescence constitutes a natural partner for their prevention.
Objective: To determine the prevalence of risk factors for non-communicable diseases in the early adolescent age group using a global school-based health survey among students of Ujjain.
Method: Cross-sectional study was done for 24 months from August 2017 to August 2019 in schools of Ujjain, Madhya Pradesh. Sampling was done using a cluster sampling technique. Students who participated were administered a questionnaire based on the GLOBAL SCHOOL HEALTH SURVEY. Appropriate statistical methods were used to find the odds ratio for the prevalence of the risk factors and differences among sex, residence (urban or rural), and type of school (government or private).
Result: This study documents that among 400 students lack exercise, consumption of junk food =44.5%, high alcohol consumption 16.8 %, smoking cigarettes was found to be prevalent risk factors of NCDs. There was a statistically significant difference noted among types of school, residence, and sex.
Conclusion: This is the first study done in this region and emphasizes individual health interventions along with the implementation of national health policies targeting the adolescent age group to lower the financial and health care burden of the region.
Downloads
Download data is not yet available.
References
World Health Organization. Global status report on noncommunicable diseases 2014. World Health Organization; 2014.
Shayo FK. Co-occurrence of risk factors for non-communicable diseases among in-school adolescents in Tanzania: An example of a low-income setting of sub-Saharan Africa for adolescence health policy actions. BMC Public Health. 2019;19(1):1–8.
Puwar T, Saxena D, Yasobant S, Savaliya S. Noncommunicable Diseases among School ‑ going Adolescents : A Case Study on Prevalence of Risk Factors from Sabarkantha District of Gujarat , India. 2018; Indian J Comm Med. 2018;43(1):S33.
Pengpid S, Peltzer K. Prevalence and correlates of behavioral non-communicable diseases risk factors among adolescents in the seychelles: Results of a national school survey in 2015. Int J Environ Res Public Health. 2019;16(15):2651.
Ene-Obong H, Ibeanu V, Onuoha N, Ejekwu A. Prevalence of overweight, obesity, and thinness among urban school-aged children and adolescents in southern Nigeria. Food Nutr Bull. 2012;33(4):242-250.
Al-Sagarat AY, Al Kalaldeh MT. Prevalence of health-risk behaviours among government schools' students in Jordan. Iran J Public Health. 2017;46(12):1669-1678.
Gujjarlapudi C, B K V, Professor A. Risk factors for Non Communicable Diseases (NCD) among High School Students in an Urban Setting. Int J Recent Trends Sci Technol. 2013;7(2):82-85.
Maimela E, Alberts M, Modjadji SEP, Choma SSR, Dikotope SA, Ntuli TS, et al. The prevalence and determinants of chronic non-communicable disease risk factors amongst adults in the Dikgale Health Demographic and Surveillance System (HDSS) site, limpopo province of South Africa. PLoS One. 2016;11(2):1-18.
Jaisoorya TS, Beena K V., Beena M, Ellangovan K, Jose DC, Thennarasu K, et al. Prevalence and correlates of alcohol use among adolescents attending school in Kerala, India. Drug Alcohol Rev. 2016;35(5):523-529.
Parsekar SS, Ashok L, Monteiro AD, Singh MM, V BT. Modifiable life style associated risk factors for non communicable diseases among students of pre - ­‐university college of Udupi taluk. Glob J Med Public Health. 2015;4(2):2277-9604.
Mahmood SE, Bilal Khan KM, Agrawal AK. Study of lifestyle disease risk factors among school going adolescents of urban Bareilly, Uttar Pradesh, India. Int J Community Med Public Heal. 2017;4(2):516.
Dhanawat J, Kotian Ms, Angeline R, Jain A. Assessment of risk factors of non-communicable diseases among high school students in Mangalore, India. Int J Heal Allied Sci. 2012;1(4):249.
Bukelo MF, Kiran D, Ramakrishna GB, Bukelo MJ, Kiran PR, Kulkarni V, et al. Risk factors for Non-Communicable diseases among rural adolescents: A school-based cross-sectional study. Asian J Pharm Clin Res. 2015;8(2):284-287.
World Health Organization. Global School-based Student Health Survey (GSHS): 2006 India, Central Board of Secondary Education (CBSE) GSHS questionnaire. 2006;
Jiloha RC. Prevention, early intervention, and harm reduction of substance use in adolescents. Indian J Psychiatry. 2017;59(1):111-118.
Katoki K, Bhagabaty SM, Kalita M. Silhouette of substance abuse amongst an adolescent sample group from urban slums of Guwahati metro, North East India. Int J Med Res Heal Sci. 2016;5(3):1-8.
Ismail IM, Venugopalan PP, Sarada AK, Binub K. Prevalence of non-communicable diseases risk factors among college students of Anjarakandy Integrated Campus, Kannur, Kerala, India. JMS - J Med Soc. 2016;30(2):106-110.
Gururaj G. Symposium on chronic noncommunicable diseases and children Injury Prevention and Care : An Important Public Health Agenda for Health, Survival and Safety of Children. 2012.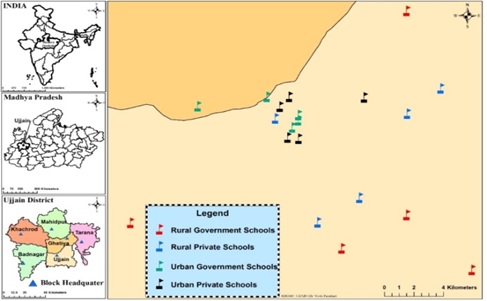 CITATION
DOI: 10.17511/ijpr.2020.i06.02
How to Cite
Dr. Priyanka Sharma, Dr. Jagdish Chandra Mandliya, Dr. Mamta Dhaneria, & Dr. Vishal Diwan. (2020). Assessment of prevalence of risk factors for non-communicable diseases in early adolescent age group using Global School Health Survey in Ujjain, Madhya Pradesh, India. Pediatric Review: International Journal of Pediatric Research, 7(6), 228-236. https://doi.org/10.17511/ijpr.2020.i06.02
Copyright (c) 2020 Author (s). Published by Siddharth Health Research and Social Welfare Society
This work is licensed under a Creative Commons Attribution 4.0 International License.