Compressive myelopathy presenting with paraparesis in pediatric age
Dr. V. A. Kotrashetti

Professor, Department of Pediatrics, DY Patil Hospital, Nerul, Maharashtra, India

Dr. Vijay Baburao Sonawane

Associate professor, Department of Pediatrics, DY Patil Hospital, Nerul, Maharashtra, India

Dr. Shweta Ravindran Nair

Senior Resident, Department of Pediatrics, DY Patil Hospital, Nerul, Maharashtra, India

https://orcid.org/

Dr. Kapil Bainade

Assistant Professor, Department of Pediatrics, DY Patil Hospital, Nerul, Maharashtra, India

Dr. Amit Vatkar

Assistant Professor, Department of Pediatrics, DY Patil Hospital, Nerul, Maharashtra, India

Dr. Samarth Gupta

Junior resident, Department of Pediatrics, DY Patil Hospital, Nerul, Maharashtra, India
Keywords:
Spine injury, Dens dislocation, Atlanto-dental interval, Atlanto-axial fusion
Abstract
Compressive myelopathy is a common presentation of the adult age group secondary to degenerating etiologies. Trauma is a rare cause of compressive myelopathy, especially in the pediatric age group as the pediatric spine is more elastic than that of adults, especially below 8 years of age. Boys are more commonly injured as compared to girls. The present study reports a case of a six-year-old female patient of compressive myelopathy presenting with jerks with progressive paraparesis. MRI shows posterior subluxation of dens (C2) attached to C2 vertebral effacing anterior – subarachnoid space and indenting spinal cord.
Downloads
Download data is not yet available.
References
Nouri A, Tetreault L, Singh A, Karadimas SK, Fehlings MG. Degenerative cervical myelopathy: epidemiology, genetics, and pathogenesis. Spine. 2015;40(12):E675-E693. doi: 10.1097/brs.0000000000000913.
Kewalramani LS, Tori JA. Spinal cord trauma in children. Neurologic patterns, radiologic features, and pathomechanics of injury. Spine. 1980;5(1):11-18. doi: 10.1097/00007632-198001000-00003.
Anderson JM, Schutt AH. Spinal injury in children: a review of 156 cases seen from 1950 through 1978. InMayo Clinic Proceedings. 1980;55(8):499-504.
Bracken MB, Freeman DH Jr, Hellenbrand K. Incidence of acute traumatic hospitalized spinal cord injury in the United States,1970-1977. Am J Epidemiol. 1981;113(6):615-622.
Hamilton MG, Mylks ST. Pediatric spinal injury: review of 174 hospital admissions. J Neurosurg. 1992;77(5):700-704. doi: 10.3171/jns.1992.77.5.0700.
d'Amato C. Pediatric spinal trauma: injuries in very young children. Clin Orthopaed Rel Res. 2005;432:34-40. doi: 10.1097/01.blo.0000156006.20089.85.
Birney TJ, Hanley Jr EN. Traumatic cervical spine injuries in childhood and adolescence. Spine. 1989;14(12):1277-1282. doi: 10.1097/00007632-198912000-00001.
Townsend EH, Rowe ML. Mobility of the upper cervical spine in health and disease. Pediatr. 1952;10(5):567-574.
Hadley MN, Zabramski JM, Browner CM, Rekate H, Sonntag VK. Pediatric spinal trauma: review of 122 cases of spinal cord and vertebral column injuries. J Neurosurg. 1988;68(1):18-24. doi: 10.3171/jns.1988.68.1.0018.
Herkowitz H N, Rothman R H. Subacute instability of the cervical spine. Spine. 1984;9(4):348-357. doi: 10.1097/00007632-198405000-00004.
Leventhal H R. Birth injuries of the spinal cord. J Pediatr. 1960;56(4):447-453. doi: 10.1016/S0022-3476(60)80356-3.
Flynn J M, Closkey R F, Mahboubi S, Dormans J P. Role of magnetic resonance imaging in the assessment of pediatric cervical spine injuries. J. Pediatr. Orthop. 2002;22(5):573-577. doi: 10.1097/00004694-200209000-00002.
Alter M. The epidemiology of Guillain-Barr syndrome. Ann Neurol. 1990;27(S1):S7-S12. doi: 10.1002/ana.410270704.
Smith MD, Phillips WA, Hensinger RN. Fusion of the upper cervical spine in children and adolescents: an analysis of 17 patients. Spine 1991;16(7):695-701.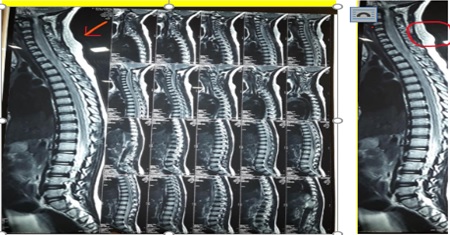 CITATION
DOI: 10.17511/ijpr.2020.i06.14
How to Cite
Dr. V. A. Kotrashetti, Dr. Vijay Baburao Sonawane, Dr. Shweta Ravindran Nair, Dr. Kapil Bainade, Dr. Amit Vatkar, & Dr. Samarth Gupta. (2020). Compressive myelopathy presenting with paraparesis in pediatric age. Pediatric Review: International Journal of Pediatric Research, 7(6), 313-316. https://doi.org/10.17511/ijpr.2020.i06.14
Copyright (c) 2020 Author (s). Published by Siddharth Health Research and Social Welfare Society
This work is licensed under a Creative Commons Attribution 4.0 International License.