A novel RET gene mutation in a neonate with total colonic aganglionosis and renal agenesis: a case report
Dr. Ravi Teja Goud M

DNB (Pediatrics), Department of Neonatology, Ankura Hospital for Women and Children, Hyderabad, Telangana, India

https://orcid.org/0000-0002-0994-2200

Dr. K. Lalatendu Kumar

Consultant Pediatric Surgeon and Pediatric Urologist, Ankura Hospital for Women and Children, Hyderabad, Telangana, India

Dr. S. Nasreen Banu

Consultant Neonatologist, Department of Neonatology, Ankura Hospital for Women and Children, Hyderabad, Telangana, India
Keywords:
Hirschsprung's disease (HSCR), Total colonic aganglionosis (TCA), REarranged during Transfection gene (RET)
Abstract
Hirschsprung's disease (HSCR) is functional lower intestinal obstruction, due to the congenital absence of the intramural plexuses of ganglion cells in the distal bowel. Total colonic aganglionosis (TCA) is a rare and severe form of HSCR and accounts for 5-10% of all the diagnosed cases of HSCR. TCA is a diagnostic and therapeutic challenge as clinical and radiological findings are not pathognomonic. The RET gene signaling system is generally acknowledged as being the most important in TCA pathogenesis, with RET gene variations being present in 70% of cases. The present study is reporting a case of TCA and right renal agenesis with a novel mutation in the RET gene.
Downloads
Download data is not yet available.
References
Ikeda K, Goto S. Diagnosis and treatment of Hirschsprung's disease in Japan. An analysis of 1628 patients. Ann Surg. 1984;199(4):400-405. doi: 10.1097/00000658-198404000-00005.
Dykes EH, Guiney EJ. Total colonic aganglionosis. J Pediatr Gastroenterol Nutr. 1989;8(1):129-132. doi: 10.1097/00005176-198901000-00024.
Moore SW. Hirschsprung disease: Current perspectives. Open Access Surg. 2016;9:39-50. doi: 10.2147/OAS.S81552.
Moore SW. Total colonic aganglionosis in Hirschsprung disease. Semin Pediatr Surg. 2012;21(4):302-309. doi: 10.1053/j.sempedsurg.2012.07.004.
Whitehouse FR, Kernohan JW. Myenteric plexus in congenital megacolon; study of 11 cases. Arch Intern Med (Chic). 1948;82(1):75-111. doi: 10.1001/archinte.1948.00220250085005.
Kaiser G, Bettex M. Disorders and congenital malformations associated with Hirschsprung's disease. In: Holschneider AM, ed. Hirschsprung's Disease. Stuttgart: Hipokrates-Verlag, 1982:49-53.
ZUELZER WW, WILSON JL. Functional intestinal obstruction on a congenital neurogenic basis in infancy. Am J Dis Child. 1948;75(1):40-64. doi: 10.1001/archpedi.1948.02030020047005.
Hoehner JC, Ein SH, Shandling B, Kim PC. Long-term morbidity in total colonic aganglionosis. J Pediatr Surg. 1998;33(7):961-965; discussion 965-6. doi: 10.1016/s0022-3468(98)90515-2.
Louw JH. Total colonic aganglionosis. Can J Surg. 1978;21(5):397-404, 409.
Amiel J, Lyonnet S. Hirschsprung disease, associated syndromes, and genetics: a review. J Med Genet. 2001;38(11):729-739. doi: 10.1136/jmg.38.11.729.
So MT, Leon TY, Cheng G, Tang CS, Miao XP, Cornes BK, et al. RET mutational spectrum in Hirschsprung disease: evaluation of 601 Chinese patients. PLoS One. 2011;6(12):e28986. doi: 10.1371/journal.pone.0028986.
N-Fékété C, Ricour C, Martelli H, Jacob SL, Pellerin D. Total colonic aganglionosis (with or without ileal involvement): a review of 27 cases. J Pediatr Surg. 1986;21(3):251-254. doi: 10.1016/s0022-3468(86)80847-8.
Fondelli P, Martucciello G, Taccone A, Dodero P. Quadro radiologicodell'agangliatotale del colon [The radiologic picture of total colonic aganglionosis]. Radiol Med. 1989;77(3):207-210.
Tsuji H, Spitz L, Kiely EM, Drake DP, Pierro A. Management and long-term follow-up of infants with total colonic aganglionosis. J Pediatr Surg. 1999;34(1):158-161. doi: 10.1016/s0022-3468(99)90248-8.
Schuchardt A, D'Agati V, Larsson-Blomberg L, Costantini F, Pachnis V. Defects in the kidney and enteric nervous system of mice lacking the tyrosine kinase receptor Ret. Nature. 1994;367(6461):380-383. doi: 10.1038/367380a0.
Sugimoto K, Miyazawa T, Nishi H, Miyazaki K, Enya T, Okada M, et al. Heterozygous p.S811F RET gene mutation associated with renal agenesis, oligomeganephronia and total colonic aganglionosis: a case report. BMC Nephrol. 2016;17(1):146. doi: 10.1186/s12882-016-0354-z.
Yk S, P R, N T. Perils of total colonic aganglionosis presenting in neonatal age. J Neonatal Surg. 2014;3(3):28.
Chandelia S, Nangia S, Saili A. Total colonic aganglionosis--a diagnostic intricacy. Indian J Pediatr. 2013;80(9):789-790. doi: 10.1007/s12098-012-0822-9.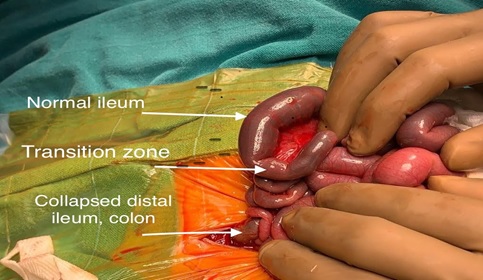 CITATION
DOI: 10.17511/ijpr.2020.i08.08
How to Cite
Dr. Ravi Teja Goud M, Dr. K. Lalatendu Kumar, & Dr. S. Nasreen Banu. (2020). A novel RET gene mutation in a neonate with total colonic aganglionosis and renal agenesis: a case report. Pediatric Review: International Journal of Pediatric Research, 7(8), 437-441. https://doi.org/10.17511/ijpr.2020.i08.08
Copyright (c) 2021 Author (s). Published by Siddharth Health Research and Social Welfare Society
This work is licensed under a Creative Commons Attribution 4.0 International License.