Mild cases of Covid-19 in children. is it really true or a mirage?
Abhishek Mandal

Final MBBS year, TNMC and Nair Hospital, Mumbai, Maharashtra, India

Dr. Santosh Kondekar

Associate professor, TNMC and Nair Hospital, Mumbai, Maharashtra, India

Rishi Bothara

Final MBBS year, TNMC and Nair Hospital, Mumbai, Maharashtra, India
Keywords:
SARS-CoV2, Children, ACE2, Trained immunity, Antioxidant
Abstract
To date, very few data on pediatric COVID 19 cases have been published, and most reports originate from China. There is an urgent need to understand why the course of the coronavirus that started in late 2019 is affecting different groups of individuals with varying severity during the ongoing global pandemic. Globally, the greatest burden of most infectious diseases, especially infections of the respiratory system are borne by children, hence the low burden of COVID 19 in children has been viewed by many as surprising. This article will provide insights regarding the role of constitutional higher trained immunity in children, physiological advantages of children, higher insulin secretion, higher ACE2 levels, better antioxidant potential, and absence of high-risk factors in protecting children against severe COVID 19 infections.
Downloads
Download data is not yet available.
References
Dhochak N, Singhal T, Kabra SK, Lodha R. Pathophysiology of COVID-19: Why Children Fare Better than Adults?. Indian journal of pediatrics. 2020 May 14:1.
Zimmermann P, Curtis N. Coronavirus infections in children including COVID-19: an overview of the epidemiology, clinical features, diagnosis, treatment and prevention options in children. The Pediatric infectious disease journal. 2020 May;39(5):355.
Keles ES. Mild SARS-COV-2 infections in children might be based on evolutionary biology and linked with host reactive oxidative stress (ROS) and antioxidant capabilities. New microbes and new infections. 2020 Jun 24:100723.
Behl T, Kaur I, Bungau S, Kumar A, Uddin MS, Kumar C, Pal G, Shrivastava K, Zengin G, Arora S. The dual impact of ACE2 in COVID-19 and ironical actions in geriatrics and pediatrics with possible therapeutic solutions. Life Sciences. 2020 Jul 10:118075.
Ahmadpoor P, Rostaing L. Why the immune system fails to mount an adaptive immune response to a Covid‐19 infection. Transplant International. 2020 Apr 1.
Sabir DK, Sidiq KR, Ali SM. Current speculations on the low incidence rate of the COVID-19 among children. Int. J. School. Health. 2020;7(2).
Sidiq KR, Sabir DK, Ali SM, Kodzius R. Does Early Childhood Vaccination Protect Against COVID-19?. Frontiers in Molecular Biosciences. 2020 Jun 5;7:120.
Ahmed SF, Quadeer AA, McKay MR. Preliminary identification of potential vaccine targets for the COVID-19 coronavirus (SARS-CoV-2) based on SARS-CoV immunological studies. Viruses. 2020 Mar;12(3):254.
Larsen JE, Lund O, Nielsen M. Improved method for predicting linear B-cell epitopes. Immunome research. 2006 Dec;2(1):1-7.
Malvoisin ET, Wild FA. Contribution of measles virus fusion protein in protective immunity: anti-F monoclonal antibodies neutralize virus infectivity and protect mice against challenge. Journal of Virology. 1990 Oct 1;64(10):5160-2.
DuBois RM, Vaney MC, Tortorici MA, Al Kurdi R, Barba-Spaeth G, Krey T, Rey FA. Functional and evolutionary insight from the crystal structure of rubella virus protein E1. Nature. 2013 Jan;493(7433):552-6.
Liu DX, Liang JQ, Fung TS. Human Coronavirus-229E, -OC43, -NL63, and -HKU1. Reference Module in Life Sciences. 2020:B978-0-12-809633-8.21501-X. doi: 10.1016/B978-0-12-809633-8.21501-X. Epub 2020 May 7. PMCID: PMC7204879.
Hoffmann M, Kleine-Weber H, Schroeder S, Krüger N, Herrler T, Erichsen S, Schiergens TS, Herrler G, Wu NH, Nitsche A, Müller MA. SARS-CoV-2 cell entry depends on ACE2 and TMPRSS2 and is blocked by a clinically proven protease inhibitor. Cell. 2020 Mar 5.
Yavuz S, Kesici S, Bayrakci B. Physiological advantages of children against COVID‐19. Acta Paediatrica. 2020 Jun 13.
Pani LN, Korenda L, Meigs JB, Driver C, Chamany S, Fox CS, Sullivan L, D'Agostino RB, Nathan DM. Effect of aging on A1C levels in individuals without diabetes: evidence from the Framingham Offspring Study and the National Health and Nutrition Examination Survey 2001–2004. Diabetes care. 2008 Oct 1;31(10):1991-6.
Sacks DB, Bruns DE, Goldstein DE, Maclaren NK, McDonald JM, Parrott M. Guidelines and recommendations for laboratory analysis in the diagnosis and management of diabetes mellitus. Clinical chemistry. 2002 Mar 1;48(3):436-72.
Dubowitz N, Xue W, Long Q, Ownby JG, Olson DE, Barb D, Rhee MK, Mohan AV, Watson‐Williams PI, Jackson SL, Tomolo AM. Aging is associated with increased HbA1c levels, independently of glucose levels and insulin resistance, and also with decreased HbA1c diagnostic specificity. Diabetic Medicine. 2014 Aug;31(8):927-35.
Roth J, Müller N, Lehmann T, Heinemann L, Wolf G, Müller UA. HbA1c and age in non-diabetic subjects: an ignored association?. Experimental and Clinical Endocrinology & Diabetes. 2016 Nov;124(10):637-42.
Dr Jayesh G Kalbhande et al, use of Insulin in treatment of COVID 19: a proposal to explore feasibility. JMSCR Volume 8, issue7, July 2020.
Brufsky A. Hyperglycemia, hydroxychloroquine, and the COVID‐19 pandemic. Journal of Medical Virology. 2020 Apr 15.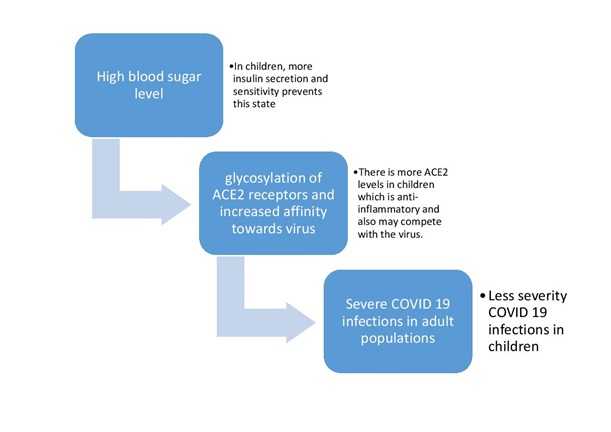 CITATION
DOI: 10.17511/ijpr.2020.i08.10
How to Cite
Abhishek Mandal, Dr. Santosh Kondekar, & Rishi Bothara. (2020). Mild cases of Covid-19 in children. is it really true or a mirage?. Pediatric Review: International Journal of Pediatric Research, 7(8), 446-451. https://doi.org/10.17511/ijpr.2020.i08.10
Copyright (c) 2021 Author (s). Published by Siddharth Health Research and Social Welfare Society
This work is licensed under a Creative Commons Attribution 4.0 International License.