A comparative study to evaluate the risk factors for patients admitted with community acquired pneumonia in pediatrics department of people's hospital Bhopal, Madhya Pradesh, India
Dr. Dinesh Mekle

Associate Professor, Department of Pediatrics, Peoples College of Medical Science and Research Centre, Bhopal, Madhya Pradesh, India

Dr. Pratyush Dwivedi

PG Resident, Department of Pediatrics, Peoples College of Medical Science and Research Centre, Bhopal, Madhya Pradesh, India

Dr. Jagdamba Dixit

Professor and HOD, Department of Pediatrics, Peoples College of Medical Science and Research Centre, Bhopal, Madhya Pradesh, India
Keywords:
Children 2 months to 60 months, Community-acquired pneumonia, Risk factors
Abstract
Aim: To evaluate the risk factors associated with Community Acquired Pneumonia (CAP) in patients admitted to the Pediatric department of People's Hospital Bhopal (MP).
Methodology: This was a case-control study which compared patients of CAP aged 2 months to 60 months, admitted in Pediatric department of People's Hospital with children attending well-baby and immunization clinic of People's hospital. Risk factors that were evaluated included demographic, socioeconomic, housing, past and family history, birth variables, nutritional variables, immunization, delay in presentation and previous treatment.
Result: The study enrolled in 209 cases and 209 unmatched controls. Male gender, significant past and family history, lower socioeconomic status, poor housing, indoor smoke, overcrowding, incomplete immunization and malnutrition were associated with increased risk of CAP. Previous treatment and delayed presentation were associated with increasing severity of CAP.
Conclusion: Concentrated efforts are needed in a direction to reduce the risk factors associated with CAP to prevent the major cause of death of children younger than 5 years.
Downloads
Download data is not yet available.
References
Revised WHO classification and treatment of childhood pneumonia at health facilities –EVIDENCE SUMMARIES 2018. https://www.who.int/maternal_child_adolescent/documents/child-pneumonia-treatment/en/.
Garenne, M., Ronsmans, C., and Campbell, H., (1992). The magnitude of mortality from acute respiratory infections in children under 5 years in developing countries. Bulletin of World Health Organization, 45: 180-91.
Nair H, Simões EA, Rudan I, Gessner BD, Azziz-Baumgartner E, Zhang JS, et al. Global and regional burden of hospital admissions for severe acute lower respiratory infections in young children in 2010: a systematic analysis. Lancet. 2013;381:1380–90. doi: 10.1016/S0140-6736(12)61901-1.
https://data.unicef.org/topic/child-health/pneumonia/.
Wardlaw, T.; Johansson, E W.; Hodge, M. 2006. Pneumonia: The forgotten killer of children. Bulletin of World Health organization, Vol. 7, 4-44. https://www.who.int/maternal_child_adolescent/documents/9280640489/en/.
Rudan I, Boschi-Pinto C, Biloglav Z, Mulholland K, Campbell H. Epidemiology and etiology of childhood pneumonia. Bull World Health Organ. 2008; 86(5):408-416. Bulletin of the World Health Organization 2008;86:408–416. doi: 10.2471/blt.07.048769.
https://www.thelancet.com/journals/langlo/article/PIIS2214-109X(19)30080-4/fulltext.
Cunha AL, Margolis PA, Wing S. Community economic development and acute lower respiratory infection in children http://ww.jhpdc.unc.edu/journal41/ecdel.pdf.
Tupasi, T.E., Mangubat, N.V., Sunico, E.S., et al (1990). Malnutrition and acute respiratory tract infections in Filipino children. Rev Infect Dis, 12:S1047-S1054. doi: 10.1093/clinids/12.supplement_8.s1047.
Mahalanabis, D., Gupta, S., Paul, D., Lahiri, M. and Khaled, A., (2002). Risk factors for pneumonia in infants and young and the role of solid fuel for cooking: a case-control study. Epidemiol. Infect, 129:65-71 doi: 10.1017/s0950268802006817.
Lang, T., Lafaiz, C., Fassin, D., Arnaut, I., Salmon, B., Baudon, D. and Ezekiel, J., (1986). Acute respiratory infections: A longitudinal study of 151 children in Burkina Faso. Int J Epidemiol, 15:553-560. doi: 10.1093/ije/15.4.553.
Sommayya Aftab1, Iftikhar Ejaz1, Umar Waqar1, Humayun Iqbal Khan1, Asif Hanif1, Amir Usman3, Asma Mushtaq1, Ilyas Muhammad Nadeem2, Holifa Saheera Asmara2, Atif Amin Baig3 risk factors for childhood pneumonia in north eastern pakistan: a case-control study: Available at https://www.researchgate.net/publication/ 320077839.
C. J. Watkins, S. R. Leeder and R. T. Corkhill Journal of Epidemiology and Community Health (1979-) Vol. 33, No. 3 (Sep., 1979), pp. 180-182 (3 pages) Published By: BMJ.
Victora, C.G., Fuchs, S.C., Flores, A.C., Fonseca, W. and Kirkwood, B., (1994). Risk factors for pneumonia among Brazilian children in a metropolitan area. Paediatrics, 93:977-985.
K Hemagiri, B SAR, K A, Khan W, C VS. Risk factors for severe pneumonia in under five children –A hospital based study. Int J Res Health Sci [Internet]. 2014 Jan31;2(1):47-57. Available from http://www.ijrhs.com/issues.php?val=Volume2&iss=Issue1.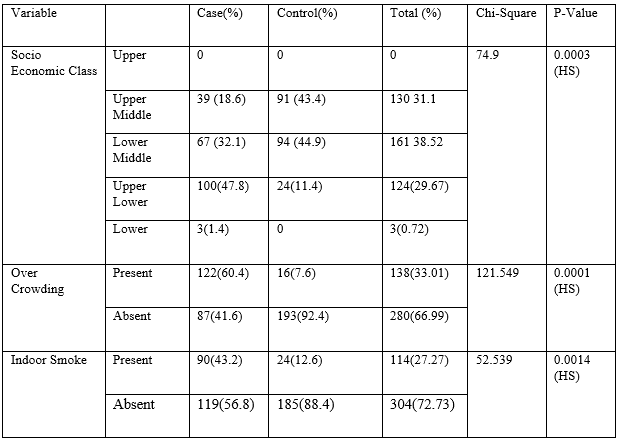 CITATION
DOI: 10.17511/ijpr.2021.i01.04
How to Cite
Dr. Dinesh Mekle, Dr. Pratyush Dwivedi, & Dr. Jagdamba Dixit. (2021). A comparative study to evaluate the risk factors for patients admitted with community acquired pneumonia in pediatrics department of people's hospital Bhopal, Madhya Pradesh, India. Pediatric Review: International Journal of Pediatric Research, 8(1), 23-28. https://doi.org/10.17511/ijpr.2021.i01.04
Copyright (c) 2021 Author (s). Published by Siddharth Health Research and Social Welfare Society
This work is licensed under a Creative Commons Attribution 4.0 International License.