To study the correlation between various levels of cord blood albumin & serum bilirubin at 48 hrs of age in term healthy newborns
Sunil Arya

Associate professor, Department of Pediatrics MGM Medical College, Indore, Madhya Pradesh, India

Chetan Panwar

Senior resident, Department of Pediatrics, MGM Medical College, Indore, Madhya Pradesh, India

Jyoti Prajapati

Assistant professor, Department of Pediatrics, MGM Medical College, Indore, Madhya Pradesh, India
Keywords:
Neonatal hyperbilirubinemia, Cord blood albumin, Pathological hyperbilirubinemia, Serum bilirubin
Abstract
Introduction: Neonatal Hyperbilirubinemia is the most common abnormal physical finding and the major cause of neonatal morbidity during the early neonatal period. Early identification of infants at risk might help in providing preventative therapy and follow-up. We aimed to assess whether arterial umbilical cord albumin level at birth predicts the development of neonatal hyperbilirubinemia in term newborns at 48 hrs of life.
Methods: This prospective observational cohort study was conducted in a tertiary care hospital over 1 year in 200 term healthy neonates. Cord blood albumin was estimated at birth followed by serum bilirubin level on the 3rd postnatal day(48 hrs of age).
Results: Total of 200 neonates were divided into three groups based on cord blood albumin level of <2.8 g/dl(group I), 2.8-3.4 g/dl(group II) and >3.4 g/dl(groupIII) with 32, 100 and 68 in three respective groups. 19 newborns (59.4%) in group I,14 in group II, and 7 newborns (10.3%) in group III developed serum bilirubin levels above an intermediate high-risk zone in Bhutani nomogram at 48 hrs of age. newborn with low cord albumin (<2.8g/dl) were significantly associated with higher bilirubin levels at 48 hrs of age.
Conclusion: Neonates with cord blood albumin <2.8 gm/dl had a significant association of the development of hyperbilirubinemia at or above intermediate high-risk zone according to Bhutani nomogram at 48 hrs of life.
Downloads
Download data is not yet available.
References
Kliegman RM, Behrman RE, Stanton BF, Schor.NF.Nelson text book of Pediatrics. 20th ed.New Delhi: Saunders Elsevier; 2012. Chapter 96.3, Jaundice and Hyperbilirubinemia in the Newborn; p 603–08
American Academy of Pediatrics Subcommittee on Hyperbilirubinemia. Management of hyperbilirubinemia in the newborn infant 35 or more weeks of gestation. Pediatrics. 2004 Jul;114(1):297-316. doi: 10.1542/peds.114.1.297. Erratum in: Pediatrics. 2004 Oct;114(4):1138.
Zimmerman DR, Klinger G, Merlob P. Early discharge after delivery. A study of safety and risk factors. ScientificWorldJournal. 2003 Dec 18;3:1363-9. doi: 10.1100/tsw.2003.108.
Rosenthal P. Assessing liver function and hyperbilirubinemia in the newborn. National Academy of Clinical Biochemistry. Clin Chem. 1997 Jan;43(1):228-34.
Mishra AK, Sanyasi Naidu C. Association of cord serum albumin with neonatal hyperbilirubinemia among term appropriate-for-gestational-age neonates. Int J Pediatr Adolesc Med. 2018 Dec;5(4):142-144. doi: 10.1016/j.ijpam.2018.12.004.
Siyah Bilgin B, Altun Koroglu O, Yalaz M, Karaman S, Kultursay N. Factors affecting bilirubin levels during first 48 hours of life in healthy infants. Biomed Res Int. 2013;2013:316430. doi: 10.1155/2013/316430.
Bhutani VK, Johnson L, Sivieri EM. Predictive ability of a predischarge hour-specific serum bilirubin for subsequent significant hyperbilirubinemia in healthy term and near-term newborns. Pediatrics. 1999 Jan;103(1):6-14. doi: 10.1542/peds.103.1.6.
Reshad, M., B. Ravichander, and T. S. Raghuraman. A study of cord blood albumin as a predictor of significant neonatal hyperbilirubinemia in term and preterm neonates. Int J Res Med Sci 4.3 (2016): 887-90.
Aiyappa GKC, Shriyan A, Raj B. Cord blood albumin as a predictor of neonatal hyperbilirubinemia in healthy neonates. Int J Contemp Pediatr 2017;4:503e6
Sahu, Suchanda, et al. "Cord blood albumin as a predictor of neonatal jaundice." Int J Biol Med Res 2.1 (2011): 436-438.
Trivedi, D. J., et al. "Umbilical cord blood bilirubin level measurement in predicting the development of significant hyperbilirubinemia." J Int Sci Inn Tech Sec 2 (2013): 39-42.
Meena, K. J., Singh, S., Verma, R. C., & Sharma, R. (2015). Utility of cord blood albumin as a predictor of significant neonatal jaundice in healthy term newborns. Ped Oncall, 12(4), 112-16.
Pahuja, Mayank, Shikha Dhawan, and Sanjata Roy Chaudhary. "Correlation of cord blood bilirubin and neonatal hyperbilirubinemia in healthy newborns." Int J Contemp Pediatr 3.926 (2016): e30.
Pushpanjali, Anil kumar Chaudhary. To study utility of cord albumin as predictor of significant neonatal jaundice in tertiary care hospital of Jharkhand. Indian journal of applied research vol 8 issue 3, march 2018 DOI;10.36106/ijar
Dhanjal G.S, Rathi R.K, Agrawal S, Savita.Cord serum albumin as a predictor of neonatal hyper bilirubinemia in healthy full-term neonates. Int J Pediatr Res. 2018;5(4):203-208. doi:10.17511/ijpr.2018.4.08
Pathak NN,Deka A, Arvind P. Cord blood albumin, a tool as predictor of neonatal hyperbilirubinemia requiring intervention. The New Indian Journal of OBGYN. 2020; 7(1): 93-6.DOI - 10.21276/obgyn.2020.7.18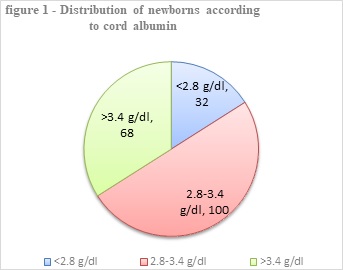 CITATION
DOI: 10.17511/ijpr.2021.i03.04
How to Cite
Sunil Arya, Chetan Panwar, & Jyoti Prajapati. (2021). To study the correlation between various levels of cord blood albumin & serum bilirubin at 48 hrs of age in term healthy newborns. Pediatric Review: International Journal of Pediatric Research, 8(3), 146-151. https://doi.org/10.17511/ijpr.2021.i03.04
Copyright (c) 2021 Author (s). Published by Siddharth Health Research and Social Welfare Society
This work is licensed under a Creative Commons Attribution 4.0 International License.