Assessment of knowledge and practice of menstrual hygiene among adolescent girls of government school of Jabalpur and impact of health education on menstrual hygiene
Dr. Preeti Singh

Senior resident, Department of Pediatrics, Netaji Subhash Chandra Bose Medical College, Jabalpur, Madhya Pradesh, India

Dr. Monica Lazarus

Associate professor, Department of Pediatrics, Netaji Subhash Chandra Bose Medical College, Jabalpur, Madhya Pradesh, India

Dr. S Priyadarshini

Senior Resident, Netaji Subhash Chandra Bose Medical College, Jabalpur, Madhya Pradesh, India
Keywords:
Adolescence, Menstruation, Health education, Menstrual hygiene, Reproductive tract infection
Abstract
Introduction: India is a developing country, it has made advancements in every field, but still menstruation is a topic of social taboo in many rural and suburban parts of the country, as people feel shy and difficult to discuss it openly, even mothers, sisters and teachers are not able to provide correct information regarding menstruation physiology and its hygiene.
Objective: To educate adolescent girls and assess the impact of health education on them.
Methods: About 400 adolescent girls aged 11-19 years from 3 government schools of Jabalpur were interviewed using a pretested and predesigned questionnaire in the local language. Health education regarding hygienic practices during menstruation was given through audiovisual aids after filling out the questionnaire.
Results: out of 400 girls, 291(72%) girls already knew that menstruation is a physiological process which increased significantly to 307(76.8%). Knowledge was poor about the source and type of bleed; only 99 (24.8%) knew that the original was the uterus. Only 59(14.8%)girls were using sanitary napkins. In contrast, most of them were using old cloth 265(66.3%)of which 86.3% were washing it with soap and water, and 67.3% used to dry them inside their houses, which increased significantly after imparting health education to 99%and decreased to 6% respectively.
Conclusion: The result of this study indicates that there is a need for the establishment of a comprehensive school health education programme with solid familial input. Teachers should be trained to provide health education about menstruation, its physiology and correct hygienic practices, as the adolescent girls will turn into mothers one day.
Downloads
Download data is not yet available.
References
Ghai OP, Paul VK, Bagga; A textbook of essential paediatrics 9th edition, New Delhi: CBS publishers and distributors Pvt limited, 2019, 60-61.
Paul Dinesh, Patnaik Rita, Gopalakrishnan Shanta; Improvement in knowledge and practice of adolescent girls regarding reproductive health and special emphasis on hygiene during menstruation in 5 yrs , national institute of public cooperation and child development, Health & Population Prospective; 2014; Issue 37 (1&2), 1 - 14. Available from.
Dasgupta A, Sarkar M. Menstrual Hygiene: How Hygienic is the Adolescent Girl? Indian J Community Med. 2008 Apr;33(2):77-80. doi: 10.4103/0970-0218.40872.
Dipali, Nemade, Anjenaya Seema, and Gujar Rupali. "Impact of health education on knowledge and practices about menstruation among adolescent school girls of Kalamboli, Navi-Mumbai." Health and Population-Perspectives and Issues 32.4 (2009): 167-175.
Bhudhagaonkar, Jyotsna, and Mahadeo Shinde. "Impact of structured education regarding menstrual hygiene practices among adolescent girls." International Journal of Science and Research (IJSR) 3.5 (2014): 244-252.
Adhikari P, Kadel B, Dhungel SI, Mandal A. Knowledge and practice regarding menstrual hygiene in rural adolescent girls of Nepal. Kathmandu Univ Med J (KUMJ). 2007 Jul-Sep;5(3):382-6.
Singh, S. P., Singh, M., Arora, M., & Sen, P. (2006). Knowledge assessment regarding puberty and menstruation among school adolescent girls of district Varanasi. Indian Journal of preventive and social medicine, 37(1&2), 10-14.
Upashe SP, Tekelab T, Mekonnen J. Assessment of knowledge and practice of menstrual hygiene among high school girls in Western Ethiopia. BMC Womens Health. 2015 Oct 14;15:84. doi: 10.1186/s12905-015-0245-7.
Adinma ED, Adinma JI. Perceptions and practices on menstruation amongst Nigerian secondary school girls. Afr J Reprod Health. 2008 Apr;12(1):74-83.
Agarwal Vijay, Agarwal Akshita S; Menstrual hygiene knowledge and practice among adolescent girls of rural Sabarkanth district; National Journal of Community Medicine, April 2018; Vol. 8 (10)
Verma, P. B., Pandya, C. M., Ramanuj, V. A., & Singh, M. P. (2011). Menstrual pattern of adolescent school girls of Bhavnagar (Gujarat). NJIRM, 2(1), 38-40.
El-Lassy, Reem Bassiouny, and A. A. E. Madian. "Impact of health educational program on menstrual beliefs and practices of adolescent Egyptian girls at secondary technical nursing school." Life Science Journal 10.2 (2013): 1-5.
Sudeshna, Ray, and Dasgupta Aparajita. "Determinants of menstrual hygiene among adolescent girls: a multivariate analysis." Natl J Community Med 3.2 (2012): 294-301.
Kartik Ramachandra, Sahana Gilyaru, Adarsh Eregowda, SreekrishnaYathirajaA study on knowledge and practices regarding menstrual hygiene among urban adolescent girls Department of Pediatrics, Rajarajeshwari medical college, Bangalore, Karnataka, India International Journal of Contemporary Pediatrics Ramachandra K et al. Int J Contemp Pediatric, 2016 Feb; 3(1) ; 142-145
Thakre, S. B., Thakre, S. S., Reddy, M., Rathi, N., Pathak, K., & Ughade, S. (2011). Menstrual hygiene: knowledge and practice among adolescent school girls of Saoner, Nagpur district. J Clin Diagn Res, 5(5), 1027-33.
Gupta, P., Gupta, J., Singhal, G., & Meharda, B. (2018). Knowledge and practices pertaining to menstruation among the school going adolescent girls of UHTC/RHTC area of Government Medical College, Kota, Rajasthan. Int J Community Med Public Health, 5(2), 652-6.
Fetohy EM. Impact of a health education program for secondary school Saudi girls about menstruation at Riyadh city. J Egypt Public Health Assoc. 2007;82(1-2):105-26.
Oster, Emily, and Rebecca Thornton. "Menstruation, sanitary products, and school attendance: evidence from a randomized evaluation." American Economic Journal: Applied Economics 3.1 (2011): 91-100.
Auroville Village Action Group. Report on rural menstrual hygiene management in Villipuram District, Tamilnadu, India.; January 2011
Adrija D, Nirmalya M. Datta M, Sarkar J, Baur B, Datta S. Menstruation and menstrual hygiene among adolescent girls of West Bengal, India: A school based comparative study. Global J Med Public Health. 2012;1(5):50-7.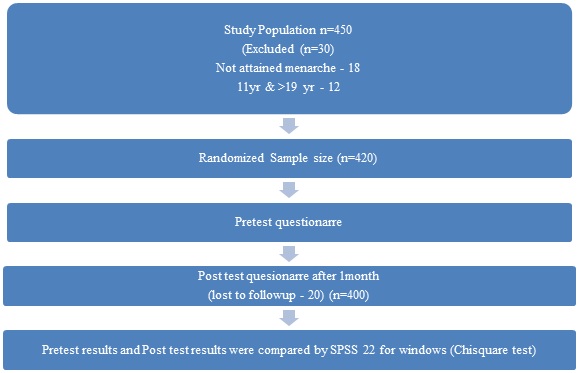 CITATION
DOI: 10.17511/ijpr.2021.i04.06
How to Cite
Dr. Preeti Singh, Dr. Monica Lazarus, & Dr. S Priyadarshini. (2021). Assessment of knowledge and practice of menstrual hygiene among adolescent girls of government school of Jabalpur and impact of health education on menstrual hygiene. Pediatric Review: International Journal of Pediatric Research, 8(4), 201-206. https://doi.org/10.17511/ijpr.2021.i04.06
Copyright (c) 2021 Author (s). Published by Siddharth Health Research and Social Welfare Society
This work is licensed under a Creative Commons Attribution 4.0 International License.