Assessment of nutritional status of adolescent girls from 15-18 years in private high schools in Raipur, Chhattisgarh
Dr. Sharja Phuljhele

Professor and HOD, Department of Paediatrics, Pt. J.N.M. Medical College, Raipur, Chhattisgarh, India

Dr. Prankur Pandey

Assistant Professor, Department of Paediatrics, Pt. J.N.M. Medical College, Raipur, Chhattisgarh, India

Dr. Prerana Singh

Postgraduate student, Department of Paediatrics, Pt. J.N.M. Medical College, Raipur, Chhattisgarh, India
Keywords:
Adolescent girls, Dietary habits, Malnutrition
Abstract
Background: Adolescent period is a phase of human development comprising the change from childhood to adulthood. Nutritional requirements increase to a great extent during this period as compared to the previous years of growth. Adolescence may represent a window of opportunity to prepare nutritionally for healthy adult life. The present study was intended to assess the nutritional status of school-going adolescent girls.
Materials and Methods: This one-year community-based, cross-sectional study was conducted in private high schools in an urban area of Raipur, Chhattisgarh among 480 adolescent girls of 15-18 years. All the selected adolescent girls were personally interviewed with the help of a pre-designed and pre-tested questionnaire regarding age, type of family, dietary habits and socioeconomic status. A three-day recall method was used to assess nutrient intake. The nutrient intake was calculated using tables of nutritive value of Indian foods.
Results: As per WHO nutritional measurement criteria, children were classified as per their anthropometric criteria as, 31.46% had moderate stunting and 4.38% were severely stunted. 2.71% had severe thinness, 27.92% were thin and 7.71% were overweight. The major morbidity among study subjects was, 19.6% had conjunctival pallor(anaemia), 8.75% had dental caries, 6.46% had Vitamin B complex deficiency, 4.8% had angular stomatitis and 0.84% had Vitamin A deficiency.
Conclusion: The present study recommends that efforts should be made to reduce the prevalence of malnutrition among adolescent girls. For this regular health check-ups should be done at schools with the help of school authorities and hospitals.
Downloads
Download data is not yet available.
References
World Health Organization. Strategic directions for improving adolescent health in South-East Asia Region. WHO Regional Office for South-East Asia; 2011. Available from: http://apps.searo.who.int/PDS_DOCS/B4771.pdf/ Accessed 9 April 2016.
Sawyer SM, Afifi RA, Bearinger LH, Blakemore SJ, Dick B, Ezeh AC, Patton GC. Adolescence: a foundation for future health. Lancet. 2012 Apr 28;379(9826):1630-40. doi: 10.1016/S0140-6736(12)60072-5. Epub 2012 Apr 25. PMID: 22538178.
Registrar General and Census Commissioner, India. Release of social and cultural tables - age data highlights. Ministry of Home Affairs. Available at http://www.censusindia.gov.in/2011.../Census_2011 _Age_data-final-12-09-2013 Accessed 3 September 2014.
Strategy Handbook. Rashtriya Kishor Swasthya Karyakram. Adolescent Health Division Ministry of Health and Family Welfare Government of India. January, 2014. Available from: https://nhm.gov.in/images/pdf/programmes/RKSK/RKSK_Strategy_Handbook.pdf
Brabin L, Brabin BJ. The cost of successful adolescent growth and development in girls in relation to iron and vitamin A status. Am J Clin Nutr. 1992 May;55(5):955-8. doi: 10.1093/ajcn/55.5.955.
Patil SN, Wasnik V, Wadke R. Health problems amongst adolescent girls in rural areas of Ratnagiri district of Maharashtra, India. J of Clinical and Diagnostic Research, 2009; Oct; 3: 1784-1790.
Kaur TJ, Kochar GK, Agarwal T. Impact of nutrition education on nutrient adequacy of adolescent girls. Stud Home Comm Sci, 2007; 1:51-55.
Akhter N, Sondhya FY. Nutritional status of adolescents in Bangladesh: Comparison of severe thinness status of a low-income family's adolescents between urban and rural Bangladesh. J Educ Health Promot. 2013 Jun 29;2:27. doi: 10.4103/2277-9531.114209. PMID: 24083277; PMCID: PMC3778614.
Food and Nutrition Technical Assistance. India Nutrition Profile. Food and Nutrition Technical Assistance; 2014. Available from: https://www.fantaproject.org/
UNICEF. India. Adolescents Nutrition. UNICEF India; 2018. Available from: http://unicef.in/Whatwedo/33/Adolescents-Nutrition
World Health Organization. Adolescent Nutrition: A Review of the Situation in Selected South-East Asian Countries. Reg Off South-East Asia, New Delhi: World Health Organization; 2006. p. 1-96. Available from: http://www.who.int/nutrition/publications/schoolagechildren/SEA_NUT_163/en
Razzak A, Juliana FM, Hossain S, Asaduzzaman, Sadia U, Fatema-Tuj-Zohra. Socio-demography characteristics of parents of the adolescent girls in a nutrition education based intervention study in rural Bangladesh. J Nutr Health Food Eng. 2017;7(3):281-4
Basu A, Roy SK, Mukhopadhyay B, Bharati P, Gupta R, Majumdar PP. Sex bias in intrahousehold food distribution: roles of ethnicity and socioeconomic characteristics. Curr Anthropol. 1986;27:536-9
K. Park. Park's Text Book of Preventive and Social Medicine, 22nded.Jabalpur: Banarasidas Bhanot Publication; 2013. P 563.
Choudhary S, Mishra CP, Shukla KP. Correlates of nutritional status of adolescent girls in the rural area of Varanasi. The Internet J of Nutr and Wellness2009;7(2).
National Nutrition Monitoring Bureau. Diet and nutritional status of rural population,Hyderabad: National institute of Nutrition, Indian Council of Medical Research;2002. p91.
H.R. Shivaramakrishna, A.V. Deepa and M. Sarithareddy.NutritionalStatus ofAdolescent Girls in Rural Area of Kolar District - A Cross-Sectional Study.Al Ame en.J Med Sci(2011);4 (3):243- 246.
Rengma MS, Bose K, Mondal N. 2016. Socio-economic and demographic correlates of stunting among adolescents of Assam, North-east India. Anthropol Rev. 79(4):409-425.
Chandrashekarappa SM, Ramakrishnaiah NMM, Manjunath R. Nutritional status in adolescent girls: Attempt to determine its prevalence and its association with sociodemographic variables, Family Medicine and Community Health 2018;6(4):184–190 184; doi: 10.15212/FMCH.2017.0122
Divya Rani, Jitendra Kumar Singh, Mona Srivastava, Pragya Verma, Deepali Srivastava, S. P. Singh. Assessment of Nutritional Status of Teenage Adolescent Girls in Urban Slum of Varanasi. International Journal of Current Research and Review Research Article DOI: http://dx.doi.org/10.31782/IJCRR.2018.10202
Kunwar, R., & Pillai, P. B. Impact of education of parents on nutritional status of primary school children. Medical journal, Armed Forces India, 2002;58(1): 38–43. https://doi.org/10.1016/S0377-1237(02)80011-9
Konwar P, Vyas N, Hossain SS, Gore MN, Choudhury M. Nutritional status of adolescent girls belonging to the tea garden estates of Sivasagar district, Assam, India. Indian J Community Med 2019;44:238-42
Goyal R, Mehta P and Kaur G. Nutritional Status and Menarche in Adolescents of Punjab. J Life Sci, 4(1): 63-66 (2012)
Kotecha, P. V., Patel, S. V., Baxi, R. K., Mazumdar, V. S., Shobha, M., Mehta, K. G., Mansi, D., &Ekta, M. (2013). Dietary pattern of schoolgoing adolescents in urban Baroda, India. Journal of health, population, and nutrition, 31(4), 490–496. https://doi.org/10.3329/jhpn.v31i4.20047
Nirpal Kaur Shukla, Mukesh Shukla, Siraj Ahmad, Ram Shukla. A Preliminary Study on Eating Habits among School Going Adolescent Girls in Barabanki District, Uttar Pradesh. Sch. J. App. Med. Sci., 2017; 5(1C):184-187
Choudhary K, Shekhawat K, Kawatra A. A cross sectional study to assess nutritional status of adolescent girls at a government senior secondary girls' school at Bikaner, Rajasthan. Indian J Comm Health. 2014;26, Suppl S2:318-321
KM Susmitha ,Jyothi C, Prabakaran J. Morbidity pattern among the adolescent girls: A study in the social welfare hostels for scheduled castes, Nellore city, A.P., India. Nat.J.Res.Com.Med .,1(1):01-60,2012.
Bhattacharya A, Basu M, Chatterjee S, Misra RN, Chowdhury G. Nutritional status and morbidity profile of school-going adolescents in a district of West Bengal. Muller J Med Sci Res 2015;6:10-5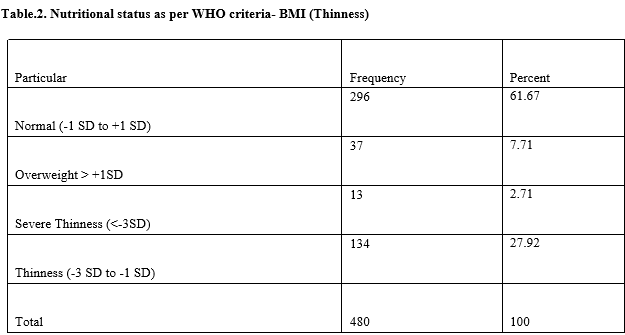 CITATION
DOI: 10.17511/ijpr.2021.i02.02
How to Cite
Dr. Sharja Phuljhele, Dr. Prankur Pandey, & Dr. Prerana Singh. (2021). Assessment of nutritional status of adolescent girls from 15-18 years in private high schools in Raipur, Chhattisgarh. Pediatric Review: International Journal of Pediatric Research, 8(2), 72-81. https://doi.org/10.17511/ijpr.2021.i02.02
Copyright (c) 2021 Author (s). Published by Siddharth Health Research and Social Welfare Society
This work is licensed under a Creative Commons Attribution 4.0 International License.