Chronic Subdural Hygroma in Battered Baby.
Dr. Kiran Bhaisare

Associate Professor, Department of Paediatrics, Vilasrao Deshmukh Institute of Medical science, Latur, Maharashtra, India

Dr. Sunil Holikar

Associate Professor, Department of Paediatrics, Vilasrao Deshmukh Institute of Medical science, Latur, Maharashtra, India
Keywords:
Abusive Head trauma, Febrile encephalopathy, Child Abuse, Multiple Fractures
Abstract
The battered baby syndrome is a condition in which a child is seriously physically abused by the caregiver or parents. The World Health Organization (WHO) estimates 40 million children are subjected to abuse and neglect around the world. Most of the industrialized countries have their reporting and surveillance system and data on child battery but in developing countries including India, there is a lack of data regarding the extent of child battering that takes place within the households or institutions. India published a report on one of the largest surveys done on child abuse and found that two out of every three children were physically abused and 88.6% of them suffered at the hands of their parents. Unfortunately, the methodology restricted the study to only older children who could give a history of abuse. Therefore, the magnitude of the problem given only highlights among children above the age of 5 years. [1]. we are reporting a case of an Infant with Febrile encephalopathy, detailed examination and investigation found out a case of chronic Subdural Hygroma with classical neuroimaging features of Abusive trauma. We have done a multidisciplinary approach with a Neurosurgeon, a social worker who treated the child with burr hole surgery for subdural hygroma & the child recovered with consciousness. This case is Special because a 5-month Male infant was subjected to abuse due to a psychological problem in a Family Member, suspicion was lacking as males are unlikely to undergo gender-biased in India and Early age of presentation.
Downloads
Download data is not yet available.
References
Subba, S. H., Pant, S., Senthilkumaran, S., & Menezes, R. G. Battered child syndrome: Is India in dire straits?. Egyptian Journal of forensic sciences, 1.3-4 (2011): 111-113.
Ramsey, Jerry A., and Byron J. Lawler. "The Battered Child Syndrome." Pepperdine Law Review 1.3 (1974): 3.
Swischuk, Leonard E., and Siddharth P. Jadhav. "Battered Child Syndrome/Non-accidental Trauma." Emergency Musculoskeletal Imaging in Children. Springer, New York, NY, 2014. 217-229.
Nandy A. Principles of forensic medicine, New Central Book Agency (P) Ltd., Calcutta 2010 p.569-74. Battered child? -A case report. Jan 2007; 1-3.
Kumar, Raj. "Chronic subdural fluid collection in children." JK Science 7 (2005): 1-3.
Nair MK. Child abuse, Indian paediatric2004,41(4) 319-20 URI: http://imsear.searo.who.int/handle/123456789/11630.
Cheah IG, Kasim MS, Shafie HM, Khoo TH. Intracranial haemorrhage and child abuse. Ann Trop Paediatr. 1994;14(4):325-8. doi: 10.1080/02724936.1994.11747737.
Wells RG, Vetter C, Laud P. Intracranial hemorrhage in children younger than 3 years: prediction of intent. Arch Pediatr Adolesc Med. 2002 Mar;156(3):252-7. doi: 10.1001/archpedi.156.3.252.
D'Eufemia P, Palombaro M, Lodato V, Zambrano A, Celli M, Persiani P, et al. Child abuse and osteogenesis imperfecta: how can they be still misdiagnosed? A case report. Clin Cases Miner Bone Metab. 2012 Sep;9(3):195-7.
Pezeshki A, Rahmani F, Ebrahimi Bakhtavar H, Fekri S. Battered Child Syndrome; a Case Study. Emerg (Tehran). 2015 Spring;3(2):81-2.
Hsieh KL, Zimmerman RA, Kao HW, Chen CY. Revisiting neuroimaging of abusive head trauma in infants and young children. AJR Am J Roentgenol. 2015 May;204(5):944-52. doi: 10.2214/AJR.14.13228.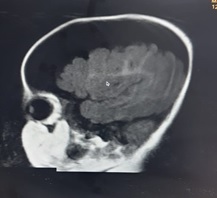 CITATION
DOI: 10.17511/ijpr.2021.i04.05
How to Cite
Dr. Kiran Bhaisare, & Dr. Sunil Holikar. (2021). Chronic Subdural Hygroma in Battered Baby. Pediatric Review: International Journal of Pediatric Research, 8(4), 196-200. https://doi.org/10.17511/ijpr.2021.i04.05
Copyright (c) 2021 Author (s). Published by Siddharth Health Research and Social Welfare Society
This work is licensed under a Creative Commons Attribution 4.0 International License.