The rare side effect of DPwT vaccination: Status epilepticus and encephalopathy
Dr. Dipesh Kaushik

Junior resident, Department of Pediatrics, IGMC, Shimla, Himachal Pradesh, India

Dr. Ankur Dharmani

Senior Resident, Department of Pediatrics, IGMC, Shimla, Himachal Pradesh, India

Dr. Arvind Sood

Professor, Department of Pediatrics, IGMC, Shimla, Himachal Pradesh, India
Keywords:
DPT, Diptheria, Pertussis, Tetanus, Encephalopathy
Abstract
Serious adverse effects have been reported with the DTwP vaccine but are rare. The frequency of these side effects/1000 doses is 0.2-4.4 for fever more than 40.5 C, 4-8.8 for persistent crying, 0.06-0.8 for hypotonic hyporesponsive episodes, 0.16-0.39 for seizures, 0.007 for encephalopathy. A 2-month-old male infant presented to the emergency pediatrics outpatient of our hospital with complaints of fever and abnormal body movements. Fever subsided after taking paracetamol. Then after 5 hours of the onset of fever patient had episodes of abnormal body movements in the form of jerky movements of bilateral upper and lower limbs. They started on methylprednisolone therapy. The seizure becomes passive after 24 hours. Antiepileptics were tapered off over 48 hours. In conclusion, although the acellular pertussis vaccine is safer than the cellular vaccine, it may rarely lead to adverse effects such as seizures.
Downloads
Download data is not yet available.
References
world health organization. Adverse events following immunization: surveillance and response standard operating procedures. New Delhi: Ministry of health and family welfare, the government of India;2010.
S Balasubramanian, shastri D, shah A, Chatterjee P, Pemde H, Guduru V et al.IAP guidebook on immunization. 3rd ed. Delhi: jaypee brothers; 2020. 136p.
Alderslade R, Bellman MH, Rawson NSB, et al. The National Childhood Encephalopathy Study." Journal Of Epidemiology and Community Health. Vol. 34. No. 2. British Med Assoc House, Tavistock Square, London, England Wc1h 9jr: British Med Journal Publ Group, 1980.
Walker AM, Jick H, Perera DR, Knauss TA, Thompson RS. Neurologic events following diphtheria-tetanus-pertussis immunization. Pediatrics. 1988 Mar;81(3):345-9.
Gale JL, Thapa PB, Wassilak SG, Bobo JK, Mendelman PM, Foy HM. Risk of serious acute neurological illness after immunization with diphtheria-tetanus-pertussis vaccine. A population-based case-control study. JAMA. 1994 Jan 5;271(1):37-41.
Griffin MR, Ray WA, Mortimer EA, Fenichel GM, Schaffner W. Risk of seizures and encephalopathy after immunization with the diphtheria-tetanus-pertussis vaccine. JAMA. 1990 Mar 23-30;263(12):1641-5.
Howson, Christopher P., Cynthia J. Howe, and Harvey V. Fineberg. Adverse effects of pertussis and rubella vaccines. National Academies Press, 1991.
Miller D, Madge N, Diamond J, Wadsworth J, Ross E. Pertussis immunisation and serious acute neurological illnesses in children. BMJ. 1993 Nov 6;307(6913):1171-6. doi: 10.1136/bmj.307.6913.1171.
Korkmaz HA, Aydin A, Unal B. Comparison of acellular pertussis-tetanus-diphtheria vaccines and whole-cell pertussis-tetanus-diphtheria vaccines in infancy. Paediatr Int Child Health. 2014 Aug;34(3):198-202. doi: 10.1179/2046905513Y.0000000110.
Geier DA, Geier MR. An evaluation of serious neurological disorders following immunization: a comparison of whole-cell pertussis and acellular pertussis vaccines. Brain Dev. 2004 Aug;26(5):296-300. doi: 10.1016/S0387-7604(03)00169-4.
Misegades LK, Winter K, Harriman K, Talarico J, Messonnier NE, Clark TA, Martin SW. Association of childhood pertussis with receipt of 5 doses of pertussis vaccine by time since last vaccine dose, California, 2010. JAMA. 2012 Nov 28;308(20):2126-32. doi: 10.1001/jama.2012.14939.
Zhang L, Prietsch SO, Axelsson I, Halperin SA. Acellular vaccines for preventing whooping cough in children. Cochrane Database Syst Rev. 2014 Sep 17;(9):CD001478. doi: 10.1002/14651858.CD001478.pub6.
Pertussis vaccines: WHO position paper - September 2015. Wkly Epidemiol Rec. 2015 Aug 28;90(35):433-58. English, French.
Vashishtha VM, Bansal CP, Gupta SG. Pertussis vaccines: position paper of Indian Academy of Pediatrics (IAP). Indian Pediatr. 2013 Nov 8;50(11):1001-9. doi: 10.1007/s13312-013-0274-y.
Kendrick PL, Eldering G, Dixon MK, Misner J. Mouse Protection Tests in the Study of Pertussis Vaccine: A Comparative Series Using the Intracerebral Route for Challenge. Am J Public Health Nations Health. 1947 Jul;37(7):803-10.
Huang WT, Gargiullo PM, Broder KR, Weintraub ES, Iskander JK, Klein NP, Baggs JM; Vaccine Safety Datalink Team. Lack of association between acellular pertussis vaccine and seizures in early childhood. Pediatrics. 2010 Aug;126(2):263-9. doi: 10.1542/peds.2009-1496.
Berkovic SF, Harkin L, McMahon JM, Pelekanos JT, Zuberi SM, Wirrell EC, et al. De-novo mutations of the sodium channel gene SCN1A in alleged vaccine encephalopathy: a retrospective study. Lancet Neurol. 2006 Jun;5(6):488-92. doi: 10.1016/S1474-4422(06)70446-X.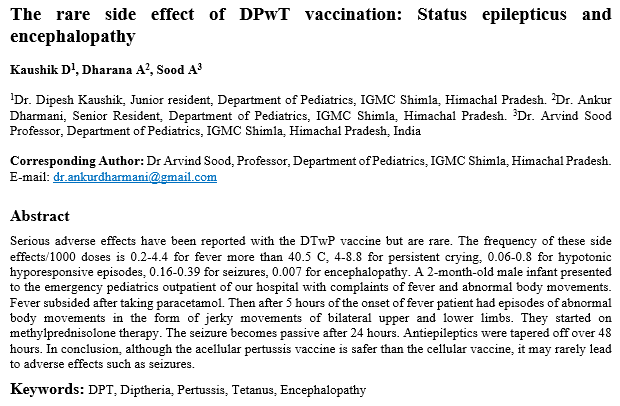 How to Cite
Dr. Dipesh Kaushik, Dr. Ankur Dharmani, & Dr. Arvind Sood. (2021). The rare side effect of DPwT vaccination: Status epilepticus and encephalopathy. Pediatric Review: International Journal of Pediatric Research, 6(5), 227-230. Retrieved from https://pediatrics.medresearch.in/index.php/ijpr/article/view/704
Copyright (c) 2021 Author (s). Published by Siddharth Health Research and Social Welfare Society
This work is licensed under a Creative Commons Attribution 4.0 International License.