Successful Source Identification and Control of an Outbreak of Serratia marcescens Bacteremia in NICU of a Tertiary Care Hospital in Eastern India
Aniruddha Ghosh

Assistant Professor, Department of Pediatric Medicine, Institute of Child Health, Kolkata, West Bengal, India.

Kheya Ghosh Uttam

Assistant Professor, Department of Pediatric Medicine, Institute of Child Health, Kolkata, West Bengal, India.

Rafiqul Hassan

Assistant Professor, Department of Pediatric Medicine, Institute of Child Health, Kolkata, West Bengal, India

Partha Pratim Halder

Assistant Professor, Department of Pediatric Medicine, Institute of Child Health, Kolkata, West Bengal, India

Sumon Poddar

Associate Professor, Department of Pediatric Medicine, Institute of Child Health, Kolkata, West Bengal, India
Keywords:
Serratia marcescens; Neonatal intensive care unit; Outbreak; Hand hygiene; Newborn; Sepsis;
Abstract
Introduction: S. marcescens can cause potentially fatal sepsis, especially in premature and low birth weight babies. The result of an outbreak in any hospital is grave and requires thorough environmental sampling for source identification.
Purpose: The objective of our study was to identify the source of the Serratia marcescens outbreak among the neonates admitted to the Neonatal Intensive Care Unit (NICU) of a tertiary care pediatric hospital. Seven neonates were affected in this outbreak and the index case, unfortunately, died.
Materials &Methods: Apart from attempts to isolate organisms from neonates with sepsis, extensive environmental sampling in the form of swabs were collected from all surfaces like walls, floors, cradles, ventilators etc. and instruments like milk collecting devices, intravenous fluid and drug bottles etc. as well as from hands, stethoscopes, mobile phones of doctors and nursing staffs. Swabs were cultured to isolate S. marcescens, and a sensitivity pattern was noted.
Results: Among the 78 samples studied, S. marcescens was isolated from a running intravenous fluid bottle and a normal saline bottle used for reconstituting intravenous fluids for the neonates. These isolates showed the same sensitivity patterns as those obtained from the affected neonates. Elimination of sources, appropriate antibiotic therapy and constant surveillance, achieved successful outbreak control.
Conclusions: Extensive environmental sampling to find out the point source, and after that, active surveillance is necessary to control such infections. Besides source control and appropriate antibiotic therapy, implementing and reinforcing routine measures such as hand hygiene are compulsory in these outbreaks.
Downloads
Download data is not yet available.
References
Farmer III, J. J., K. D. Boatwright, and J. M. Janda. Enterobacteriaceae: introduction and identification, p 649–669. Manual of clinical microbiology, 9th ed. ASM Press, Washington, DC (2007).
Grimont, F., and P. A. D. Grimont. Genus XXXIV. Serratia Bizio 1823, 288AL. Bergey's Manual of Systematic Bacteriology, edited by DJ Brenner, NR Krieg and JT Staley. New York: Springer (2005).
.
Gossard, Kimberly A. Genetic profiling of the white pox disease coral pathogen Serratia marcescens from the Florida Keys. (2014).
Laupland KB, Parkins MD, Gregson DB, Church DL, Ross T, Pitout JD. Population-based laboratory surveillance for Serratia species isolates in a large Canadian health region. Eur J Clin Microbiol Infect Dis. 2008 Feb;27(2):89-95. doi: 10.1007/s10096-007-0400-7.
Mahlen SD. Serratia Infections: from military experiments to current practice. Clin Microbiol Rev 2011 Oct; 24(4):755-91.
Woodward, H. M. M., and K. B. Clarke. A case of infection in man by the Bacterium prodigiosum." The Lancet 181.4666 (1913): 314-315.
Rabinowitz K, Schiffrin R. A ward-contamination by Serratia marcescens. Acta Med Orient. 1952 Oct;11(10):181-4.
Raymond J, Aujard Y. Nosocomial infections in pediatric patients: a European, multicenter prospective study. European Study Group. Infect Control Hosp Epidemiol. 2000 Apr;21(4):260-3. doi: 10.1086/501755.
Polilli E, Parruti G, Fazii P, D'Antonio D, Palmieri D, D'Incecco C, et al. Rapidly controlled outbreak of Serratia marcescens infection/colonisations in a neonatal intensive care unit, Pescara General Hospital, Pescara, Italy, April 2011. Euro Surveill. 2011 Jun 16;16(24):19892. doi: 10.2807/ese.16.24.19892-en.
Voelz A, Müller A, Gillen J, Le C, Dresbach T, Engelhart S, et al. Outbreaks of Serratia marcescens in neonatal and pediatric intensive care units: clinical aspects, risk factors and management. Int J Hyg Environ Health. 2010 Mar;213(2):79-87. doi: 10.1016/j.ijheh.2009.09.003.
Liu X, Jia J, Popat R, Ortori CA, Li J, Diggle SP, et al. Characterization of two quorum sensing systems in the endophytic Serratia plymuthica strain G3: differential control of motility and biofilm formation according to life-style. BMC Microbiol. 2011 Feb 1;11(1):26. doi: 10.1186/1471-2180-11-26.
Shanks RM, Stella NA, Kalivoda EJ, Doe MR, O'Dee DM, Lathrop KL, et al. A Serratia marcescens OxyR homolog mediates surface attachment and biofilm formation. J Bacteriol. 2007 Oct;189(20):7262-72. doi: 10.1128/JB.00859-07.
Jang TN, Fung CP, Yang TL, Shen SH, Huang CS, Lee SH. Use of pulsed-field gel electrophoresis to investigate an outbreak of Serratia marcescens infection in a neonatal intensive care unit. J Hosp Infect. 2001 May;48(1):13-9. doi: 10.1053/jhin.2001.0947.
Miranda G, Kelly C, Solorzano F, Leanos B, Coria R, Patterson JE. Use of pulsed-field gel electrophoresis typing to study an outbreak of infection due to Serratia marcescens in a neonatal intensive care unit. J Clin Microbiol. 1996 Dec;34(12):3138-41. doi: 10.1128/jcm.34.12.3138-3141.1996.
Smith PJ, Brookfield DS, Shaw DA, Gray J. An outbreak of Serratia marcescens infections in a neonatal unit. Lancet. 1984 Jan 21;1(8369):151-3. doi: 10.1016/s0140-6736(84)90074-6.
Miranda-Novales G, Leaños-Miranda B, Díaz-Ramos R, González-Tejeda L, Peregrino-Bejarano L, Villegas-Silva R, et al. An outbreak due to Serratia marcescens in a neonatal intensive care unit typed by 2-day pulsed field gel electrophoresis protocol. Arch Med Res. 2003 May-Jun;34(3):237-41. doi: 10.1016/S0188-4409(03)00026-2.
Lai KK, Baker SP, Fontecchio SA. Rapid eradication of a cluster of Serratia marcescens in a neonatal intensive care unit: use of epidemiologic chromosome profiling by pulsed-field gel electrophoresis. Infect Control Hosp Epidemiol. 2004 Sep;25(9):730-4. doi: 10.1086/502468.
Steppberger K, Walter S, Claros MC, Spencker FB, Kiess W, Rodloff AC, et al.Nosocomial neonatal outbreak of Serratia marcescens--analysis of pathogens by pulsed field gel electrophoresis and polymerase chain reaction. Infection. 2002 Oct;30(5):277-81. doi: 10.1007/s15010-002-2141-y.
Bizzarro MJ, Dembry LM, Baltimore RS, Gallagher PG. Case-control analysis of endemic Serratia marcescens bacteremia in a neonatal intensive care unit. Arch Dis Child Fetal Neonatal Ed. 2007 Mar;92(2):F120-6. doi: 10.1136/adc.2006.102855.
Anderson B, Nicholas S, Sprague B, Campos J, Short B, Singh N. Molecular and descriptive epidemiologyof multidrug-resistant Enterobacteriaceae in hospitalized infants. Infect Control Hosp Epidemiol. 2008 Mar;29(3):250-5. doi: 10.1086/527513.
Fleisch F, Zimmermann-Baer U, Zbinden R, Bischoff G, Arlettaz R, Waldvogel K, et al. Three consecutive outbreaks of Serratia marcescens in a neonatal intensive care unit. Clin Infect Dis. 2002 Mar 15;34(6):767-73. doi: 10.1086/339046.
Arslan U, Erayman I, Kirdar S, Yuksekkaya S, Cimen O, Tuncer I, et al. Serratia marcescens sepsis outbreak in a neonatal intensive care unit. Pediatr Int. 2010 Apr;52(2):208-12. doi: 10.1111/j.1442-200X.2009.02934.x.
Moles L, Gómez M, Heilig H, Bustos G, Fuentes S, de Vos W, et al. Bacterial diversity in meconium of preterm neonates and evolution of their fecal microbiota during the first month of life. PLoS One. 2013 Jun 28;8(6):e66986. doi: 10.1371/journal.pone.0066986.
Crivaro V, Bagattini M, Salza MF, Raimondi F, Rossano F, Triassi M, et al. Risk factors for extended-spectrum beta-lactamase-producing Serratia marcescens and Klebsiella pneumoniae acquisition in a neonatal intensive care unit. J Hosp Infect. 2007 Oct;67(2):135-41. doi: 10.1016/j.jhin.2007.07.026.
Friedman ND, Kotsanas D, Brett J, Billah B, Korman TM. Investigation of an outbreak of Serratia marcescens in a neonatal unit via a case-control study and molecular typing. Am J Infect Control. 2008 Feb;36(1):22-8. doi: 10.1016/j.ajic.2006.12.012.
Hanson ND, Sanders CC. Regulation of inducible AmpC beta-lactamase expression among Enterobacteriaceae. Curr Pharm Des. 1999 Nov;5(11):881-94.
Wayne, P. A. Clinical and Laboratory Standards Institute: Performance standards for antimicrobial susceptibility testing: 20th informational supplement." CLSI document M100-S20 (2010).
Rizvi M, Fatima N, Rashid M, Shukla I, Malik A, Usman A, et al. Extended spectrum AmpC and metallo-beta-lactamases in Serratia and Citrobacter spp. in a disc approximation assay. J Infect Dev Ctries. 2009 May 1;3(4):285-94.
Nastro M, Monge R, Zintgraff J, Vaulet LG, Boutureira M, Famiglietti A, et al. First nosocomial outbreak of VIM-16-producing Serratia marcescens in Argentina. Clin Microbiol Infect. 2013 Jul;19(7):617-9. doi: 10.1111/j.1469-0691.2012.03978.x.
Zaidi M, Sifuentes J, Bobadilla M, Moncada D, Ponce de León S. Epidemic of Serratia marcescens bacteremia and meningitis in a neonatal unit in Mexico City. Infect Control Hosp Epidemiol. 1989 Jan;10(1):14-20. doi: 10.1086/645909.
Almuneef MA, Baltimore RS, Farrel PA, Reagan-Cirincione P, Dembry LM. Molecular typing demonstrating transmission of gram-negative rods in a neonatal intensive care unit in the absence of a recognized epidemic. Clin Infect Dis. 2001 Jan 15;32(2):220-7. doi: 10.1086/318477.
Oie S, Kamiya A, Hironaga K, Koshiro A. Microbial contamination of enteral feeding solution and its prevention. Am J Infect Control. 1993 Feb;21(1):34-8. doi: 10.1016/0196-6553(93)90205-i.
Macdonald TM, Langley JM, Mailman T, Allain K, Nelson G, Hatton L, et al. Serratia marcescens outbreak in a neonatal intensive care unit related to the exit port of an oscillator. Pediatr Crit Care Med. 2011 Nov;12(6):e282-6. doi: 10.1097/PCC.0b013e31820ac42a.
Gillespie EE, Bradford J, Brett J, Kotsanas D. Serratia marcescens bacteremia - an indicator for outbreak management and heightened surveillance. J Perinat Med. 2007;35(3):227-31. doi: 10.1515/JPM.2007.043.
Kampf G, Kramer A. Epidemiologic background of hand hygiene and evaluation of the most important agents for scrubs and rubs. Clin Microbiol Rev. 2004 Oct;17(4):863-93, table of contents. doi: 10.1128/CMR.17.4.863-893.2004.
McCormack RC, Kunin CM. Control of a single source nursery epidemic due to Serratia marcescens. Pediatrics. 1966 May;37(5):750-5.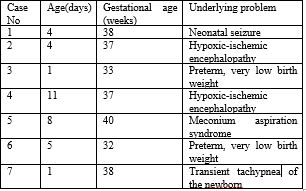 How to Cite
Aniruddha Ghosh, Kheya Ghosh Uttam, Rafiqul Hassan, Partha Pratim Halder, & Sumon Poddar. (2022). Successful Source Identification and Control of an Outbreak of Serratia marcescens Bacteremia in NICU of a Tertiary Care Hospital in Eastern India. Pediatric Review: International Journal of Pediatric Research, 9(2), 6-13. Retrieved from https://pediatrics.medresearch.in/index.php/ijpr/article/view/717
Copyright (c) 2022 Author (s). Published by Siddharth Health Research and Social Welfare Society
This work is licensed under a Creative Commons Attribution 4.0 International License.