A Rare Case of Chryseobacterium Indolegens Bacteremia in A PretermInfant In A Tertiary Care Hospital In Bangalore
S Manasa

Consultant, Microbiologist, Manipal Hospital Sarjapur road, Bangalore, Karnataka, India

Sagar Sharma H.S

Consultant, Neonatologist, Manipal Hospital Sarjapur road, Bangalore, Karnataka, India
Keywords:
Chryseobacterium indologenes, blood stream infection, preterm, healthcare-associated infection
Abstract
Multi-drug resistant organisms are very common worldwide. Bloodstream infection byChryseobacterium indologenes is one of the healthcare-associated infections which is resistant tomost antibiotics. It is usually seen in preterms, patients on immunosuppressive drugs or havingmalignancy and patients with indwelling devices. It causes various types of infections, such asbacteremia, pneumonia, meningitis, and artificial shunt infection, especially with harbouring invasivedevices and indwelling catheters. Management of C.indologenes in neonates is not adequatelydocumented leading to under-reporting in India. In our hospital, we had a preterm baby of 31 weeksweighing 1.36kg, who presented with respiratory distress syndrome with an umbilical veincatheterization with signs of sepsis. The blood culture yielded C.indologenes with resistance to mostof the group of antibiotics.
Downloads
Download data is not yet available.
References
1. Vandamme P., Bernardet J.-F., Segers P., Kersters K., Holmes B. New perspectives in the classification of the flavobacteria: Description of Chryseobacterium gen. Nov., Bergeyella gen. Nov., and Empedobacter nom. Int. J. Syst. Evol. Microbiol. 1994;44:827–831. doi: 10.1099/00207713-44-4-827

2.Hsueh PR, Hsiue TR, Wu JJ, et al. Flavobacterium indologenes bacteremia: Clinical and microbiological characteristics. Clin Infect Dis. 1996;23:550–5.
3.Hsueh PR, Teng LJ, Ho SW, Hsieh WC, Luh KT. Clinical and microbiological characteristics of Flavobacterium indologenes infections associated with indwelling devices. J Clin Microbiol. 1996;34:1908–13.
4.Cascio A, Stassi G, Costa GB, et al. Chryseobacterium indologenes bacteraemia in a diabetic child. J Med Microbiol. 2005;54:677–80.

5 Y. Siegman-Igra, D. Schwartz, G. Soferman, N. Konforti Flavobacterium group IIb bacteremia: report of a case and review of Flavobacterium infections
Med Microbiol Immunol, 176 (1987), pp. 103-111

6 M.J. Bonten, F.H. van Tiel, S. van der Geest, H.G. Smeets, E.E. Stobberingh, C.A. Gaillard
Topical antimicrobial prophylaxis of nosocomial pneumonia in mechanically ventilated patients. Microbiological observations
Infection, 21 (1993), pp. 137-139

7 D.H. Bagely, J.C. Alexander, V.J. Gill, R. Dolin, A.S. Ketcham
Late Flavobacterium species meningitis after craniofacial exenteration
Arch Intern Med, 136 (1976), pp. 229-231

8.W.E. Stamm, J.J. Colella, R.L. Anderson, R.E. Dixon
Indwelling arterial catheters as a source of nosocomial bacteremia: an outbreak caused by Flavobacterium species
N Engl J Med, 292 (1975), pp. 1099-1102

9 V. Sudharani, Asiya, N.K. Saxena
Chryseobacterium indologenes bacteremia in a preterm baby
Indian J Med Microbiol, 29 (2011), pp. 196-198

10.Y.T. Lin, Y.Y. Jeng, M.L. Lin, K.W. Yu, F.D. Wang, C.Y. Liu
Clinical and microbiological characteristics of Chryseobacterium indologenes bacteremiaJ Microbiol Immunol Infect, 43 (2010), pp. 498-505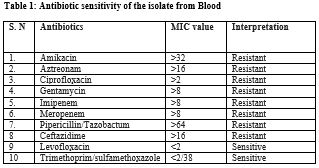 How to Cite
S Manasa, & Sagar Sharma H.S. (2022). A Rare Case of Chryseobacterium Indolegens Bacteremia in A PretermInfant In A Tertiary Care Hospital In Bangalore. Pediatric Review: International Journal of Pediatric Research, 9(4), 21-24. Retrieved from https://pediatrics.medresearch.in/index.php/ijpr/article/view/725
Copyright (c) 2022 Author (s). Published by Siddharth Health Research and Social Welfare Society
This work is licensed under a Creative Commons Attribution 4.0 International License.