Hydranencephaly- a rare case of neglected child with enlarging head size
Shefali P

Assistant Professor, Department of Paediatrics, East Point College of Medical Sciences and Research Centre, Bangalore,Karnataka, India

B Sandeep

Professor, Department of Paediatrics, East Point College of Medical Sciences and Research Centre, Bangalore, Karnataka,India

B Kiran

HOD & Professor, Department of Paediatrics, East Point College of Medical Sciences and Research Centre, Bangalore, Karnataka,India
Keywords:
Key words- Hydrancephaly, cerebrospinal fluid, hydrocephalous, internal carotid artery occlusion
Abstract
Hydranencephaly is a rare congenital abnormality characterized by the absence and replacement ofthe cerebral hemisphere by cerebrospinal fluid. Here we report a rare case of a child who presentedvery late at 2 years of age with a massively enlarged head size with spasticity of all four limbs,suspected of hydrocephalous at first while on further work up diagnosed to have hydranencephaly.This report is aimed to make clinicians aware of a rare condition which can present very late even upto 2 years of age.
Downloads
Download data is not yet available.
References
References

1. Sultana, Z., kumari, A. and Pathan, H., 2020. A RARE CASE OF HYDRANENCEPHALY: A CASE REPORT. International Journal of Anatomy and Research, 8(3.2), pp.7644-7648.
2.Azizah Hamida 1, Andi Arwan 2 .Premature infant with Hydrancephaly : a first reported case in Indonesia .Asia Pacific Journal Of Paediatrics and Child Health.2020oct-dec ( 3).
3. Greco, F., Finocchiaro, M., Pavone, P., Trifiletti, R. and Parano, E., 2001. Hemihydranencephaly: Case Report and Literature Review. Journal of Child Neurology, 16(3), pp.218-221.
4. Hernan Cortes-Yepes,, W., 2012. Prenatal sonography in hydranencephaly: findings during the early stages of disease. J Ultrasound Med., 5, pp.799-804.
5. Pavone P,Praticò AD,Vitaliti G,Ruggieri M,Rizzo R,Parano E,Pavone L,Pero G,Falsaperla R, Hydranencephaly: cerebral spinal fluid instead of cerebral mantles. Italian journal of pediatrics. 2014 Oct 18; [PubMed PMID: 25326191]
6. Olowu, J., Lagunju, I., Tongo, O. and Atalabi, M., 2007. Intrauterine fetal death of one of twins, coexisting with hydranencephaly in the surviving co-twin: A case report. West African Journal of Medicine, 25(3).
7. Adeloye, A., 2009. Hydranencephaly in Malawian children. East African Medical Journal, 77(6).
8. Khalid, S., Zaheer, S., Redhu, N., Ekramullah and Khalid, M., 2012. Hydranencephaly: A rare cause of an enlarging head size in an infant. North American Journal of Medical Sciences, 4(10), p.520.
9. Pavone, P., Praticò, A., Vitaliti, G., Ruggieri, M., Rizzo, R., Parano, E., Pavone, L., Pero, G. and Falsaperla, R., 2014. Hydranencephaly: cerebral spinal fluid instead of cerebral mantles. Italian Journal of Pediatrics, 40(1).
10. Wunmi Daniyan, O., Benaiah Ezeanosike, O., Nnedinma Onyebuchi, A. and Nnaemeka Okonkwo, S., 2020. Hydranencephaly: A Cause of Increasing Head Size in A Nigerian Neonate. Archives of Clinical and Medical Case Reports, 04(03).
11. Takada, K., Shiota, M., Ando, M., Kimura, M. and Inoue, K., 1989. Porencephaly and hydranencephaly: A neuropathological study of four autopsy cases. Brain and Development, 11(1), pp.51-56.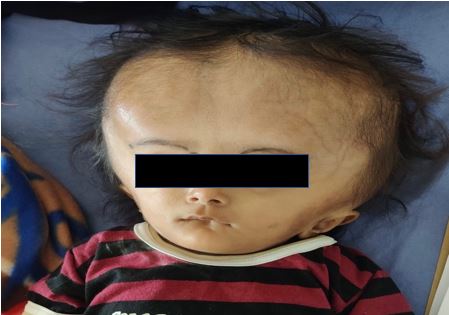 How to Cite
Dr. Shefali Patel, B Sandeep, & B Kiran. (2022). Hydranencephaly- a rare case of neglected child with enlarging head size. Pediatric Review: International Journal of Pediatric Research, 9(5), 34-37. Retrieved from https://pediatrics.medresearch.in/index.php/ijpr/article/view/728
Copyright (c) 2022 Author (s). Published by Siddharth Health Research and Social Welfare Society
This work is licensed under a Creative Commons Attribution 4.0 International License.