AN UNUSUAL CAUSE OF CYANOSIS
BENZOCAINE INDUCED METHEMOGLOBINEMIA
BALAJI SUSARLA

INDIVIDUAL

SUMAN KUMAR CHINTALAPALLY

RAVALI GUNDAPUNENI

SRAVYA PODISHETTI
Keywords:
METHEMOGLOBINEMIA, BENZOCAINE, CYANOSIS
Abstract
t
Methaemoglobinemia is an uncommon haemoglobinopathy but potentially fatal if unrecognized or
untreated at the earliest. It can either be congenital or acquired. Acquired can be after using topical
anaesthetics such as nitrates, benzocaine, and lidocaine. The present study reports a rare case of
benzocaine induce Methaemoglobinemia. A 20 days old male baby presented to the emergency room
with complaints of seizure like activity in the past hour, bluish discoloration of skin since past 1 day and
loose watery stools since 3 days. Baby was irritable, crying with central cyanosis, had 2 episodes of
seizures upon arrival. He was tachypnoeic with saturations were 85% on room air along with
tachycardia. Perianal rash with excoriation of overlying skin was present. Rest of the examination was
unremarkable. He was managed with supplemental oxygen, IV antiepileptic and supportive treatment.
His septic screen was normal; Chest x-ray was unremarkable, 2D Echo showed a structurally normal
heart with normal biventricular function. His percutaneous oxygen saturation remained 85-88% despite
administration of 100% oxygen. His arterial blood sample had a dark chocolate color appearance, with
normal PaO2 levels on blood gases. His methaemoglobin levels were 21.7%. After, two doses of
methylene blue (1 mg/kg/dose) were administered, his cyanosis abated and oxygenation improved.
Repeat methaemoglobin levels were 1.3%. A relook into the history revealed use of Mucopaine gel for
perianal rash which contains Benzocaine confirming it as Benzocaine induced Methaemoglobinemia.
Downloads
Download data is not yet available.
References
1) Coleman MD, Coleman NA, Drug-induced methemoglobinemia: treatment issues. Drug Saf. 1996; 14(6) : 394-405
2) Wolff JA. Clinical conference: methemoglobinemia due to benzocaine. Pediatrics. 1957; 20(5,pt1): 915-916
3) Skold A, Cosco DL, Klein R: Methemoglobinemia; pathogenesis, diagnosis and management, South Med J. 2011, 104: 757-61. 10.1097/SMJ.0b013e318232139f
4) Douglas WW, Fairbanks VF: Methemoglobinemia induced by a topical anaesthetic spray. Chest. 1977, 71:587-91.
5) Kane GC, Hoehn SM, Behrenbeck TR, Mulvagh SL: Benzocaine induced methemoglobinemia based on the Mayo clinic experience from 28, 478 transesophageal echocardiogram: incidence, outcomes and predisposing factors. Arch intern Med, 2007, 167: 1977-82
6) Novaro GM, Arnow HD, Militello MA, Garcia MJ, Sabik EM: Benzocaine-induced methemoglobinemia: experience from a high volume transesophageal echocardiography laboratory. J AM Soc Echocardiogr. 2003, 16: 170-75
7) Taleb M, Ashraf Z, Valavoor S, Tinkel J: evaluation and management of acquired methemoglobinemia associated with topical benzocaine use, Am J Cardiovascular Drugs. 2013, 5: 325-30. 10.1007/s40256-013-0027-2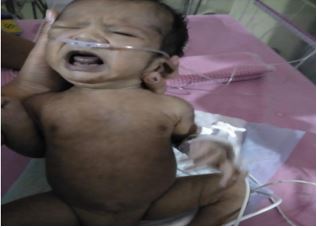 How to Cite
SUSARLA, B., CHINTALAPALLY, S. K., GUNDAPUNENI, R., & PODISHETTI, S. (2023). AN UNUSUAL CAUSE OF CYANOSIS. Pediatric Review: International Journal of Pediatric Research, 10(2), 22-24. Retrieved from https://pediatrics.medresearch.in/index.php/ijpr/article/view/740
Copyright (c) 2023 Author (s). Published by Siddharth Health Research and Social Welfare Society
This work is licensed under a Creative Commons Attribution 4.0 International License.