Study of incidence. risk factors and clinical profile of neonatal hypoglycemia in a tertiary care hospital
Dr. Prerana Singh

3rd year resident
Keywords:
Hypoglycemia, blood sugar levels, neurological damage
Abstract
Background: The clinical manifestations of hypoglycemia are non-specific. Materials and Methods: This prospective observational study was done over a period of 6 months. All babies admitted to NICU with whole blood sugar levels <40 mg/dl were subjected to detailed history, thorough clinical examination and observation of signs and symptoms. Results: Neonatal hypoglycemia constituted about 11.7% among which 56% were preterm ,56% were outborn. More number of male babies (67%) had hypoglycemia with male to female ratio of 2:1. Asymptomatic hypoglycemia was noticed in 56%. The major clinical manifestations were jitteriness(57.9%) followed by lethargy(42.1%), convulsions(26.3%) and apnoeic spells(15.8%). We noticed PIH as the most significant maternal risk factor (37.2%) followed by APH(16.4%). We found prematurity the most common neonatal risk factor accounting for 55.8% cases. Persistent hypoglycemia was noted in 6.9% cases. Conclusion: Proper monitoring of blood glucose levels should be done to plan early treatment and prevent neurological damage.
Downloads
Download data is not yet available.
References
Jane Hawdon. Metabolic disease: In Janet M Rennie. Robertson's Textbook of neonatology. 4th ed. Philadelphia:Elsevier;2005. p. 851-856.
Richard E. Wilker, Hypoglycemia and Hyperglycemia In: John.P. Cloherty, Eric C. Eichenwald, Ann R. Stark editors. Manual Of Neonatal Care. 6th Ed. Philadelphia: Wolters Kluwer; 2010. p.540-546.
Satish C. Kalhan, Prabhu S. Parimi. Metabolic and Endocrine Disorders. In: Richard J. Martin, Avory A. Fanaroff, Michele C. Walsh editors. Fanaroff and Martins textbook ,Neonatal-Perinatal Medicine. 8th ed.,vol 2, Mosby Elsevier; 2006. p. 1467-1480.
Najati N, Saboktakin L. Prevalence and underlying etiologies of neonatal hypoglycemia. Pak J Biol Sci. 2010 Aug 1; 13(15): 753-6.
Ghaemi Nosrat, Mohammadzadeh Ashraf, Farhat Ahmad Shah. Incidence and etiology of hypoglycemia in neonatal intensive care unit admissions. Journal of Chinese Clinical Medicine. 2009; 4(6): 321-324.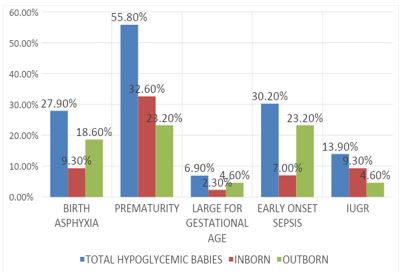 How to Cite
Dr. Prerana Singh. (2023). Study of incidence. risk factors and clinical profile of neonatal hypoglycemia in a tertiary care hospital. Pediatric Review: International Journal of Pediatric Research, 10(4), 78-85. Retrieved from https://pediatrics.medresearch.in/index.php/ijpr/article/view/756
Copyright (c) 2023 Author (s). Published by Siddharth Health Research and Social Welfare Society
This work is licensed under a Creative Commons Attribution 4.0 International License.