Study of glycemic status, thyroid function and vitamin D3 level in children with β thalassemia major in a tertiary care center
Dr. Dhiraj Kumar Solanki

Associate Professor, Department of Paediatrics, Pt J.N.M. Medical College, Raipur, Chhattisgarh, India

Dr. Shashikant Dewangan

Assistant Professor, Department of Paediatrics, Pt J.N.M. Medical College, Raipur, Chhattisgarh, India

Dr. Bhoopendra Sahu

Resident, Department of Paediatrics, Pt J.N.M. Medical College, Raipur, Chhattisgarh, India
Keywords:
β Thalassemia, Vitamin D3, HbA1c, TSH, Hypothyroidism, Prediabetes
Abstract
Introduction: β thalassemia has emerged as a huge public health problem worldwide. Thyroxine reserve is reduced in multitransfused thalassemia patientsanddiabetes can also be a considerable complication.Vitamin D3 deficiency is noted in thalassemia patients and is related to bone diseases.
Aims and Objectives: Study of glycemicstatus, thyroid function, and vitamin D3 level in children with βthalassemia major.
Method:Socio-demographic information wascollected by using the pretested and predesigned structured pro forma by interview technique. HbA1c level, vitamin D3 level,and thyroid function had been obtained from the lab.
Result:In 89% of subjects TSH levels were normal with a mean value of 5.04.In 10.9%it was increased witha mean value of TSH being 6.67.VitaminD3 level in 2% children was below 20ng/ml, 50.50% had between 21 to 29ng/ml and 47.52% had between 30-60 ng/ml. Vitamin D3 deficiency increased with a higher blood transfusion rate (p-value 0.000). In 88.12%of the study, subjectsHbA1c was normal, 11.18%were inthe pre-diabetic range,and none of the subjects were diabetic as per HbA1C results. The mean value of HbA1C in normal children was 4.79%whereas in prediabetic children mean value of HbA1C was 6.13%.
Conclusion: In the present study multiple endocrine abnormalities were common in multi transfused thalassemia major patients. Prevalence of subclinical hypothyroidism and prediabetes increased with a higher blood transfusion rate and higher serum ferritin level. Prevalence of subclinical hypothyroidism and prediabetes increased with age (p-value <0.05).
Downloads
Download data is not yet available.
References
Old J, Harteveld CL, Traeger-Synodinos J, Petrou M, Angastiniotis M, Galanello R. Haematological Methods. InPrevention of Thalassaemias and Other Haemoglobin Disorders: Volume 2: Laboratory Protocols [Internet]. 2nd edition 2012. Thalassaemia International Federation.
Weatherall DJ, Clegg JB. Inherited haemoglobin disorders: An increasing global health problem. Bull World Health Organ. 2001;79(8):704-712.
De VS, Roos M, Gasser T, Fortini M, Raiola G, Galati MC. Impact of long-term iron chelation therapy on growth and endocrine functions in thalassaemia. J Pediatr Endocrinol Metab. 2006;19(4):471-480.
S T, SN R. Thalassemia prevalence in the state of Chhattisgarh: A short-review of the Literature. J Blood Disord Med. 2018;3:5-7.
Malik SA, Syed S, Ahmed N. Frequency of hypothyroidism in patients of b-thalassemia. J Pak Med Assoc. 2010;60(1):17-20.
Eshragi P, Tamaddoni A, Zarifi K, Mohammadhasani A, Aminzadeh M. Thyroid function in major thalassemia patients: Is it related to height and chelation therapy? Casp J Intern Med. 2011;2(1):189-193.
Hashemizadeh H, Noori R. Assessment of Hypothyroidism in Children with Beta-Thalassemia Major in North Eastern Iran. Iran J Pediatic Hematol Oncol. 2012;2(3):123-127.
Rindang C, Batubara JRL, Amalia P, Satari H. Some aspects of thyroid dysfunction in thalassemia major patients with severe iron overload. Paediatr Indones. 2011;51(2):66-72.doi: https://doi.org/10.14238/pi51.2.2011.66-72.
Tsilingiris D, Makrilakis K, Voskaridou E, Pagkrati S, Dalamaga M, Liatis S. Effect of heterozygous beta thalassemia on HbA1c levels in individuals without diabetes mellitus: A cross sectional study. Clin Chim Acta. 2019;494:132-137.doi: https://doi.org/10.1016/j.cca.2019.03.1611.
Metwalley K, El-Saied AR. Glucose homeostasis in Egyptian children and adolescents with β-Thalassemia major: Relationship to oxidative stress. Indian J Endocrinol Metab. 2014;18(3):333-339.doi: https://doi.org/10.4103/2230-8210.131169.
El-Samahy MH, Tantawy AA, Adly AA, Abdelmaksoud AA, Ismail EA, Salah NY. Evaluation of continuous glucose monitoring system for detection of alterations in glucose homeostasis in pediatric patients with β-thalassemia major. Pediatr Diabetes. 2019;20(1):65-72.doi: https://doi.org/10.1111/pedi.12793.
He LN, Chen W, Yang Y,Xie YJ, Xiong ZY, Chen DY, et al. Elevated Prevalence of Abnormal Glucose Metabolism and Other Endocrine Disorders in Patients with β -Thalassemia Major: A Meta-Analysis. Biomed Res Int. 2019. doi: https://doi.org/10.1155/2019/6573497.
El-Hazmi MA, Al-Swailem A, Al-Fawaz I, Warsey AS, Al-Swailem A, et al. Diabetes mellitus in children suffering from β-thalassaemia. J Trop Pediatr. 1994;40(5):261-266.doi: https://doi.org/10.1093/tropej/40.5.261.
Mashhadi MA, Sepehri Z, Heidari Z, Kaykhaei MA, Sargazi A, Kohan F, et al. A cross-sectional study of glycemic status and zinc level in patients with Beta-Thalassemia major. Int J Hematol Stem Cell Res. 2017;11(4):273-280.
Fahim FM, Saad K, Askar EA, Eldin EN, Thabet AF. Growth parameters and vitamin D status in children with thalassemia major in upper Egypt. Int J Hematol Stem Cell Res. 2013;7(4):10-14.
Ahmed Z, . P, Kausar MS, Sinah D. Study of serum calcium, phosphorus and vitamin D status in multitransfused β-thalassemia major children and adolescents of Jharkhand, India. Int J Contemp Pediatr. 2019;6(2):598.doi: http://dx.doi.org/10.18203/2349-3291.ijcp20190694.
Gombar S, Parihar K, Choudhary M. Comparative study of serum ferritin and vitamin D in thalassemia patients with healthy controls. Int J Res Med Sci. 2018;6(2):693.doi: http://dx.doi.org/10.18203/2320-6012.ijrms20180322.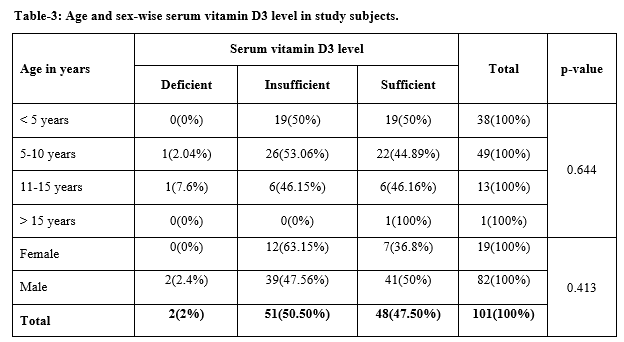 CITATION
DOI: 10.17511/ijpr.2020.i05.03
How to Cite
Kumar Solanki, D., Dewangan, S., & Sahu, B. (2020). Study of glycemic status, thyroid function and vitamin D3 level in children with β thalassemia major in a tertiary care center. Pediatric Review: International Journal of Pediatric Research, 7(5), 204-209. https://doi.org/10.17511/ijpr.2020.i05.03
Copyright (c) 2020 Author (s). Published by Siddharth Health Research and Social Welfare Society
This work is licensed under a Creative Commons Attribution 4.0 International License.