Nutritional status characteristics of infants presenting with neonatal cholestasis
Dr. Laxmi Kant Bharti

Additional Professor, Department of Pediatric Gastroenterology, Sanjay Gandhi Postgraduate Institute of Medical Sciences(SGPGI), Lucknow, Uttar Pradesh, India

Dr. Jai Kishun

Assistant Professor, Department of Biostatistics and Health Informatics, Sanjay Gandhi Postgraduate Institute of Medical Sciences(SGPGI), Lucknow, Uttar Pradesh, India
Keywords:
Neonatal cholestasis, Undernutrition, Breast feeding, Nutritional status, Infant
Abstract
Background:Neonatal cholestasis (NC) is one of the commonest presentations in early infancy diseases. The nutritional status of infants may be affected by many factors. Impaired bile flow may further lead to the nutritional compromise of infants. Timely nutritional assessment and adequate nutritional support in the form of adequate breastfeeding and if required appropriate formulae feeding according to age and weight is crucial for better outcomes in improving morbidity and decreasing mortality of infants with NC.
Methods:Consecutive 143 patients of NC up to 12 months enrolled from the HIS data (hospital information system). Anthropometric examination, mode, and type of feeding and serum markers like LFT (liver function test) and Hb (hemoglobin) were recorded. Data were analyzed by IAP growth parameters and SPSS 21.
Results:The mean age of NC presentation was 3.6 months. 74(51.7%) were on mixed feeding, 61(42.6%) were exclusively breastfed (EBF) and only 8(5.6%) infants were on only top feeding by formula feeding or bovine milk feed. 39.16% were undernourished and around 19.5% were stunted.40% infants were anemic. The median value of serum albumin in top-fed and EBF (exclusive breastfed) was low.
Conclusions:Malnutrition is common in infants with NC. There area different feeding pattern and type observed in infants with NC. EHBA (extrahepatic biliary atresia) is the most common diagnosis in infants with NC presented to the tertiary care center. Early nutritional assessment and timely nutritional supplementation having a crucial role in the outcome of patients with various diagnoses in NC.
Downloads
Download data is not yet available.
References
Bharti LK,KishunJ,KumarA,Kumar B. Nutritional status assessment in children with chronic liver disease. Gal Int J Health Sci Res. 2020;5(2):84-88.
Consensuses report on neonatal cholestasis syndrome. Pediatric Gastroenterology Subspecialty Chapter of Indian Academy of Pediatrics. Indian Pediatr. 2000;37:845-851.
Davis AR,RosenthalP,EscobarGJ,NewmanTB. Interpreting conjugated bilirubin levels in newborns. J Pediatr. 2011;158(4):562-565.doi: https://dx.doi.org/10.1016%2Fj.jpeds.2010.09.061.
NovyMA,Schwarz KB. Nutritional considerations andmanagement of the child with liver disease. Nutrition. 1997;13(3):177-184.doi: https://doi.org/10.1016/s0899-9007(97)00045-2.
Protheroe SM. Feeding the child with chronic liver disease. Nutrition. 1998;14(10):796-800.doi: https://doi.org/10.1016/s0899-9007(98)00087-2.
McDiarmidSV,AnandR,Lindblad AS. Principal Investigators and Institutions of the Studies of Pediatric Liver Transplantation (SPLIT) Research Group. Development of a pediatric end-stage liver disease score to predict poor outcome in children awaiting liver transplantation.Transplantation 2002;74(2):173-181. doi: https://doi.org/10.1097/00007890-200207270-00006.
Pierro A, Koletzko B, Carnielli V, SuperinaRA,Roberts EA, Filler RM, et al. Resting energy expenditure is increased in infants and children with extrahepatic biliary atresia. J PediatrSurg. 1989;24(6):534-538. doi: https://doi.org/10.1016/s0022-3468(89)80500-7.
Kobayashi A, Ohbe Y, Yonekubo A. Fat absorption in patients with surgically repaired biliary atresia. Pediatr Acta. 1983;38(4):307-314.
Yachha SK,Kanduri A, Kumar M, Sikora SS, Saxena R, Gupta RK, et al.Neonatal cholestasis syndrome: An appraisal at a tertiary care center. Indian Pediatr. 1996;33(9):729-734.
Ogbo FA, Dhami MV, Awosemo AO, Olusanya BO, Olusanya J, Osuagwu UL, et al. Regional Prevalence and Determinants of Exclusive Breastfeeding in India.Int Breastfeed J. 2019;14:20.doi: https://doi.org/10.1186/s13006-019-0214-0.
Suchy FJ. Neonatal cholestasis. Pediatr Rev. 2004;25(11):388-396.
Islam S, Rukunuzzaman M, Karim AB, Masuduzzaman SM, Alam MJ, Badal MF. Evaluation of Nutritional Status of Hospitalized Infants with Cholestatic Jaundice in a Tertiary Care Center in Bangladesh. Medicine Today. 2020;32(1):10-14.doi: https://doi.org/10.3329/medtoday.v32i1.44821.
Yuksekkaya HA, Cakir M, Tumgor G, Baran M, Arikan C, Yagci RV, Aydogdu S. Nutritional status of infants with neonatal cholestasis. Digest Dis Sci. 2008;53(3):803-808.doi: https://doi.org/10.1007/s10620-007-9917-y.
Socha P, Koletzko B, Swiatkowska E, Pawlowska J, Stolarczyk A, Socha J. Essential fatty acid metabolism in infants with neonatal cholestasis.Acta Paediatr. 1998;87(3):278-283. doi: https://doi.org/10.1080/08035259850157327.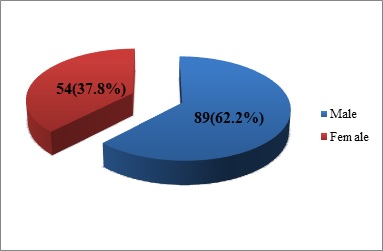 CITATION
DOI: 10.17511/ijpr.2020.i05.02
How to Cite
Kant Bharti, L., & Kishun, J. (2020). Nutritional status characteristics of infants presenting with neonatal cholestasis. Pediatric Review: International Journal of Pediatric Research, 7(5), 199-203. https://doi.org/10.17511/ijpr.2020.i05.02
Copyright (c) 2020 Author (s). Published by Siddharth Health Research and Social Welfare Society
This work is licensed under a Creative Commons Attribution 4.0 International License.