Scrub septicemia progressing to polyneuropathy: a case report
Dr. Pradeep Kumar Jena

Associate Professor, Department of Pediatrics, SCB Medical College, Cuttack, Odisha, India

Dr. Swasthi Kabi Satapathy

Resident Physician, Department of Pediatrics, SCB Medical College, Cuttack, Odisha, India

Dr. Alok Satya Prakash Nayak

Senior Resident, Department of Pediatrics, SCB Medical College, Cuttack, Odisha, India

Dr. Sarthak NaIik

Senior Resident, Department of Pediatrics, SCB Medical College, Cuttack, Odisha, India

Dr. Mangal Charan Murmu

Associate Professor, Department of Pediatrics, SCB Medical College, Cuttack, Odisha, India
Keywords:
Scrub Typhus, Myopathy, Polyneuropathy
Abstract
Scrub typhus is a major public health problem in India with a wide spectrum of clinical manifestations and a low index of suspicion is low endemic areas which in turn can increase morbidity and mortality. The clinical manifestations of scrub typhus can range from mild non-specific febrile illness or constitutional symptoms such as fever, rash, myalgia, headache to various organ dysfunction such as AKI, myocarditis, pneumonia, meningitis, encephalitis, GI bleed, hepatitis. Here we report a case of a 9-year-old girl who presented with scrub septicemia and progressed to develop critical illness myopathy, which is very unusual.
Downloads
Download data is not yet available.
References
Barnwell BL, Mildner RJ, Hassall AC, Becker LE, Vassar J, Shemie SD. Muscle weakness in critically ill children. Neurology. 2003;61(12):1779-82. doi: 10.1212/01.wnl.0000098886.90030.67.
Williams S, Horrocks IA, Ouvrier RA, Gillis J, Ryan MM. Critical illness polyneuropathy and myopathy in pediatric intensive care: A review. Pediatr Crit Care Med. 2007;8(1):18-22. doi: 10.1097/01.pcc.0000256623.01254.40.
Vinay Kukreti, Mosharraf Shamim, Praveen Khilnani Intensive care unit acquired weakness in children: Critical illness polyneuropathy and myopathy Indian J Crit Care Med. 2014;18(2):95–101. doi: 10.4103/0972-5229.126079.
Sheth RD, Pryse-Phillips WE, Riggs JE, Bodensteiner JB. Critical illness neuromuscular disease in children manifested as ventilatory dependence. J Pediatr. 1995; 18(2): 95–101. doi: 10.4103/0972-5229.126079.
De Jonghe B, Sharshar T, Lefaucheur JP, Authier FJ, Durand-Zaleski I, Boussarsar M, et al. Paresis acquired in the intensive care unit: A prospective multicenter study. JAMA. 2002;288:2859–67. doi:10.1001/jama.288.22.2859.
Latronico N, Peli E, Botteri M. Critical illness myopathy and neuropathy. Curr Opin Crit Care. 2005; 11(2):126-32. doi: 10.1097/01.ccx.0000155357.24360.89.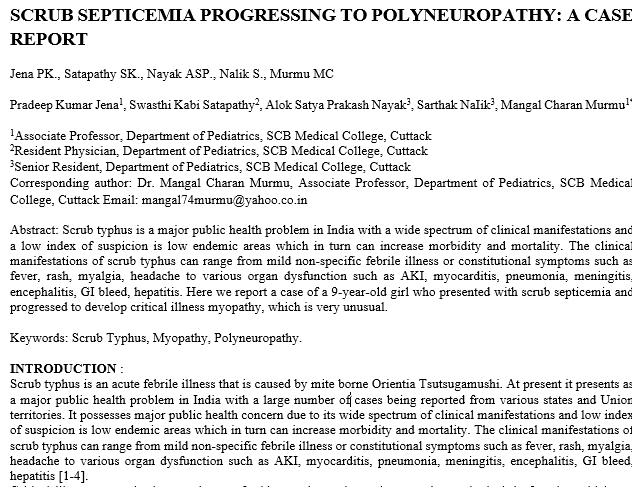 CITATION
DOI: 10.17511/ijpr.2021.i01.09
How to Cite
Dr. Pradeep Kumar Jena, Dr. Swasthi Kabi Satapathy, Dr. Alok Satya Prakash Nayak, Dr. Sarthak NaIik, & Dr. Mangal Charan Murmu. (2021). Scrub septicemia progressing to polyneuropathy: a case report. Pediatric Review: International Journal of Pediatric Research, 8(1), 64-67. https://doi.org/10.17511/ijpr.2021.i01.09
Copyright (c) 2021 Author (s). Published by Siddharth Health Research and Social Welfare Society
This work is licensed under a Creative Commons Attribution 4.0 International License.